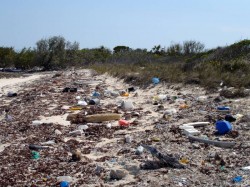 Nassau has not been this dirty and unkempt since the first Christie-led government and before that, not since before 1992.
The Deputy Prime Minister and Minister of Public Works has thanked the Bahamian people for our patience and for being "tolerable" as he tried to get his ministry 'back on track'. The DPM says he was busy trying to bring "more transparency, order and accountability in the process".
Unfortunately for the DPM, residents of New Providence are way past being patient with this government which we do not find tolerable in the least. We do not believe that the DPM or anyone else in his Government has a clue as to the meaning of transparency, order or accountability. We all know that the PLP government is famous for backroom deals, special interests and an "all for me baby" attitude.
It is clear for even the blind to see that this government has been busy firing any and all companies and individuals hired by the last FNM government to keep our road verges, neighbourhood parks and open green spaces clean. It did not occur to them to hire replacements for a seamless transition. Their aim was to fire anyone contracted by the FNM, even if they were PLPs. Well the result is the overgrown filth that we are living in.
No, Mr DPM, we have no interest in tolerating your inefficiency, excuses and incompetence. We find your demonstrated ineffectiveness and lame excuses unacceptable and intolerable.
It's the same incompetence that caused your ministry to take more than 12 months to repair a small piece of road washed away by Hurricane Sandy down at the Caves. It's the same incompetence that has stalled the Ministry's attempt to rebuild the sand dune further along the same roadway. And it's the same incompetence that prevents you from even now completing two badly needed public restroom facilities at Montagu Beach Park.
Come to think about it, your Ministry has not been able to complete and open the Marsh Harbour Airport Terminal in Abaco or to sign a contract to complete roadwork in your own San Salvador constituency – works that were underway and which your ministry interrupted after the last elections.
We're nearing 18 months since you took over responsibility for Public Works. Let me just say to the DPM that we would be happy to see the job of keeping Nassau clean and pristine go to someone else who actually has an understanding of the job.
GEOFFREY COOPER
Nassau, Bahamas
October 10, 2013