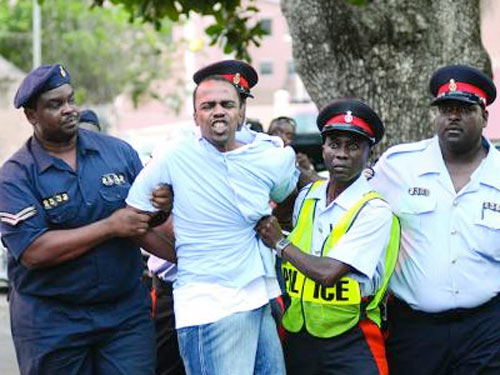 Minutes after a jury convicted Kofhe Goodman of the murder of 11-year-old Marco Archer, he issued death threats, tried to climb out of the prisoner's dock and spat on one of the jurors last night.
Police officers quickly grabbed Goodman as he scaled the prisoner's dock after prosecutor Garvin Gaskin, the deputy director of public prosecutions, told the court the convict was making death threats towards Marco's family.
Goodman shouted, "I ga [expletive] kill y'all" before the officers physically restrained him. However, that did not stop Goodman from spitting on a female juror as he walked past her.
Goodman, 38, now faces the death penalty for the September 2011 murder of Marco, who was last seen alive when he left his Brougham Street home to get candy from a neighborhood store.
When Gaskin told Justice Bernard Turner of the prosecution's intention to seek the death penalty, Goodman smirked and said, "That's all?"
Marco's body was found five days later in bushes behind the condominium complex where Goodman lived at Cable Beach. The clothing he left home in was found in a garbage bag in front of the complex.
DNA from Marco and Goodman were found on the clothing.