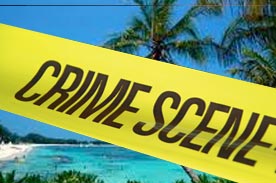 According to The Punch, yet another American tourist was beaten and robbed by two thugs while on West Bay Street.
The violent robbery of the 63-year-old U.S. tourist happened in broad daylight around 4:30pm on the outskirts of downtown.
Victim George Papadopoulos was walking back to the Junkanoo Beach Hotel on the corner of West Bay Street and Nassau Street.
As he strolled along Bay Street, Papadopoulos – a resident of Destin, Florida – was approached by two men in a dark-coloured car.
The vehicle's license plate was 244020. The two Bahamian men offered Papadopoulos a ride, which he accepted.
However, the men drove past his hotel and refused to drop him off. Then, they suddenly attacked him. They beat him over the head and body and robbed him of $500 cash.
Luckily, Papadopoulos was able to free himself and escape. He described the males to be of dark complexion and of slim build.
Papadopoulos complained to police of pains to his head and body. He was treated in hospital and discharged. Police are hunting for the two robbers.
U.S. Embassy Charge D'Affaires John Dinkelman was informed of the robbery and beating of the American tourist but has yet to comment.