Christie's Erratic Behaviour Criticized
September 30, 2013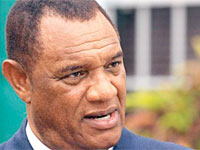 Free National Movement (FNM) Chairman Darron Cash yesterday said that Bahamians have reason to be worried about Prime Minister Perry Christie's leadership ability based on his "rant" against former Prime Minister Hubert Ingraham at a public event.
"The Bahamian people have increasing reasons to be concerned about the continually impulsive and erratic behavior that they continue to see from the prime minister," Cash said yesterday.
"Bahamians are expecting a more reasoned, balanced, level-headed leadership and they're not getting it from the prime minister. From day to day, Bahamians don't know which prime minister is going to show up and that is deeply troubling."
Cash said that the prime minister often seems like a "deer in the headlights" who is seen "rambling and waffling" to justify the government's actions.
"Bahamians have [reason] to be deeply troubled about whether the prime minister has got the intellectual focus and discipline needed to continue leading this country," he added.
Cash said it was "troubling" that the prime minister used an opportunity to talk about national development and planning to "undermine his very message".
He noted that a day earlier Christie met with Leader of the FNM Dr. Hubert Minnis to discuss bi-partisanship and constitutional reform only to later "attack" the opposition.
On Thursday, Christie heavily criticized the fiscal policies of the Ingraham administration and said that the lack of a clear plan led the former government to overspend millions on infrastructure developments and pre-election ploys.
The prime minister's comments came during a speech at the opening of a one-day seminar planned by the Office of the Prime Minister and the Inter-American Development Bank.
The seminar was designed to discuss strategies for creating a national economic development plan.
Several times during Christie's 50-minute speech, he suggested that Ingraham's financial policies were unsound, particularly the former government's spending on the over-budget New Providence Road Improvement Project.
"When you prepare road works, you don't come back afterwards because you neglected to consult the Water [and Sewerage] Corporation and they have to dig it back up to fix the water mains, and you end up spending millions and millions of dollars which you ought not have if you had planning in place," Christie said.
"With a macho politician, those who could make decisions, those who represent themselves to be super-decisive, they impose upon this country a great sin."
However, Cash said the prime minister is "wrong" about the New Providence Road Improvement Project. He noted comments made by IDB Caribbean Department General Manager Gerad Johnson when he came to sign off on a contract to cover a loan for the additional road project funds last October.
"This is what he said," Cash told The Nassau Guardian. "He said, 'Due diligence that was done in this case was very complete. It was viewed by many eyes, including independent eyes. The important thing is that at the end of that process, the benefits continue to far outweigh the cost. Even the increased cost, that is the bottom line to why the IDB board approved it and that's the bottom line as to why we are proud to be sitting here today to sign it.'"
Christie also accused Ingraham of spending millions just to satisfy voters ahead of the 2012 general election.
The prime minister also lashed out at the media and urged the public not to be swayed by biased reports. He also referenced one opinion writer, The Nassau Guardian columnist Simon, who this week criticized him in the Front Porch column for being a politician who is heavy on talk and light on action.
"We cannot allow ourselves to be fooled as a people through silly, political positioning and public relations that is skewed and put forward by media for one political side," he said.
via The Nassau Guardian.