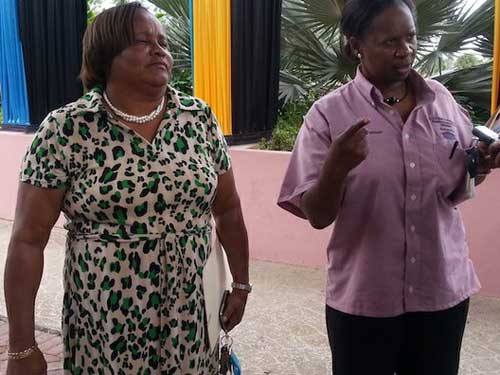 This can't be good.
Recently, Belinda Wilson — President of the Bahamas Union of Teachers (BUT) — warned Education Minister Jerome Fitzgerald to "try it" after he threatened to cut pay for teachers participating in sit-outs.
This latest disagreement is the newest addition to ongoing negotiations.
Earlier this week, a number of teachers defied the orders of the Minister of Education by engaging in a sit-out at the request of the BUT. Mr. Fitzgerald declared that money would be deducted from the salaries of teachers who didn't show up to work by 8.45am.
Ms. Wilson, accompanied by her team of 10 union members, and the President of the National Congress of Trade Unions of the Bahamas (NCTUB), Jennifer Isaacs-Dotson, went to the Cable Beach office of Prime Minister Perry Christie but unsuccessful to secure a meeting with the PM after showing up unannounced.
Believing they had secured a meeting with the Prime Minister, Ms. Wilson said she was upset to instead meet the Permanent Secretary and Investment Minister, Khaalis Rolle.
She said: "It was a waste of our time."
Ouch.
Asked for a comment on Mr Fitzgerald's announcement he would cut pay, she was quoted to say: "Try it."