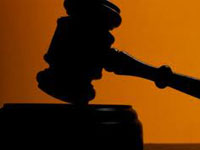 Two Bahamians face possible death sentences after being charged in connection with a boat that capsized off Miami, killing four women in a human smuggling operation.
53-year-old Naaman Davis and 38-year-old George Lewis, both of the Bahamas, were charged in a 24-count indictment last week with encouraging and inducing aliens to enter the United States resulting in death.
Boat operator Davis is also charged with involuntary manslaughter.
Davis and Lewis face possible death sentences.
The boat carrying Bahamians, Jamaicans and Haitians overturned seven miles east of Miami. The 11 survivors were found clinging to the hull the morning of October 17.
Lewis and three Jamaicans on board — Matthew Williams, 30; Everton Jones, 40; and Kenard Hagigal, 35 — were charged with illegal re-entry into the United States by an aggravated felon. A fourth Jamaican passenger,Sean Gaynor, 37, was charged with illegal re-entry into the United States.
All face years in prison.
The other five survivors — four Haitians and one Bahamian — are considered witnesses in the criminal investigation, according to the indictment released by the U.S. Attorney's Office.
The four Haitian survivors have been released from federal custody and could be eligible for work visas in the U.S. It wasn't clear whether the Bahamian was still being held.
Of the four women who died, three have been identified as Haitian.
Source: tribune242.com