Paradise Children's Foundation Helps Bahamas Children
October 3, 2013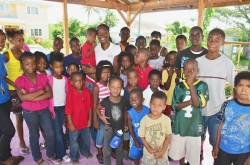 On February 1 of this year, Paradise Children's Foundation hosted its inaugural gala fundraising event, "Pandora's Box in Paradise" at the Atlantis Resort.
It was a spectacular evening, exceeding expectations and raising significant funds for Bahamian children in need. Organisers said the success of the event was a result of smart planning, a lot of hard work and the boundless passion of a small group of dedicated individuals, as well as the significant generosity of patrons, and sponsors such as Atlantis and its employees.
In the seven months since the event, the Paradise Children's Foundation has distributed more than $236,000 in grants to various children's organisations. Further funds have been earmarked and will be distributed in the near future.
The Paradise Children's Foundation is a not-for-profit organisation founded by Ocean Club Estates and Paradise Island residents, and is dedicated to improving the lives of Bahamian children in need. Through philanthropic initiatives, it channels resources to support and benefit local organisations that have as their primary goal, the betterment of children throughout the Bahamas.
Pandora's Box 2014 will take place on Friday, January 31, 2014, at the beautiful Cain Pool at the Cove, Atlantis Resort, Paradise Island.
Tickets will be limited and will be available for purchase directly through the Atlantis box office in the near future. For more information, visit www.paradisechildrensfoundation.org.