HeliCat 22: To The Bahamas in 2 Hours on 10 Gallons
October 28, 2013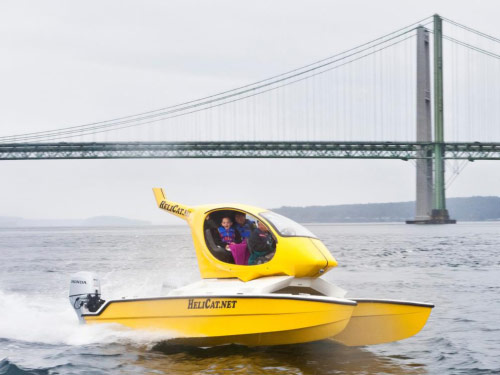 Traveling on the water is anything but boring aboard the HeliCat 22 (see on HeliCat.net). This new 22-foot catamaran can travel 20-30 mph in whitecap waves while getting 5 mpg which is not possible in other boats. It is a 3-seater, fore and aft, like a motorcycle with that same open air feeling, but without the traffic danger. The new design makes this cool-looking, lightweight, stable and agile catamaran safe in rough seas, and a lot of fun with great fuel economy and near zero maintenance. The HeliCat's east coast debut will be at the Ft. Lauderdale International Boat Show Oct. 31- Nov. 4
Since April debut of the HeliCat prototypes in CA, 30 articles have been written about the HeliCat in six different countries. Trade Only Today, a daily newsletter for Marine industry professionals, reported that a photo of the HeliCat posted on the Newport Boat Show's Facebook page got more than 30,000 views versus the average of 7,500 views for all other vessel photos posted. HeliCat was the feature of a 2 minute special on Seattle's King 5 TV's evening magazine Sept. 12.
The HeliCat 22 is a cool-looking catamaran for rough water — great for stable & safe, fun, fast, economical and practical water travel, resort adventure tours ( resort option has 4 side facing jump seats with seat belts on the steps to the hulls), island transport, "the bass boat for rough water", or day charter/rental. She handles waves better than other small boats and is virtually unsinkable due to a combination of positive foam flotation and separate watertight compartments. She has been tested in whitecap waves under the Tacoma Narrows Bridge and found to be very stable and relatively smooth at 20-30 mph–see videos on web site. Combined with her stability and near-zero maintenance, she makes most-weather travel on the water reasonably economical.
"You can wrap it with your company contact info, logo, and photos for eye-catching and fun advertising, both on and off the water," says Sandy Williamson, the owner of HeliCat LLC.
The prototype boat's top speed is 35 KN with twin 60hp. Twin 90 hp Honda motors yields a top speed of 40 KN. However, what's most unusual besides her looks is the combination of speed and stability in rough water and great fuel economy.
The HeliCat can be ordered with 60 to 90 hp motors of your choice or sold alone for you to fit your own motors. A custom aluminum trailer with LED lights and disc brakes is available. She can be towed by a mid- sized car or small SUV because she will be 3,300-3,800 pounds on the trailer full of fuel, gear, and ready to go anywhere.
Sandy has boated for 40 years. He and his wife Deborah bought their first boat before marrying 40 years ago. Since then, they've owned nine sailboats and six powerboats, and have chartered 11 others – about half of which were multi-hulls. They've cruised over 5,000 miles in many states, on 3 Coasts, as well as the Sea of Cortez, the Caribbean, and the English Channel. Sandy is a licensed Coast Guard Captain for 50-ton commercial vessels inland, and is ASA-licensed to teach sailing, cruising, chartering, and navigation. He has operated nearly 150 different boats. His full bio is on his other web sites: WORDBoats.com and WORDyachts.com