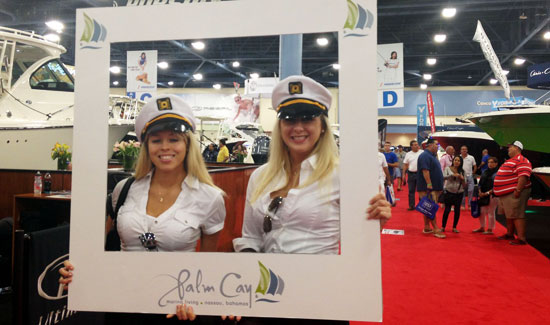 Representatives of a fast-growing New Providence development returned from the Miami International Boat Show this week with reports of their best year ever in the show that spans 2.5 million square feet, attracting tens of thousands of visitors shopping or dreaming over a fantasy land of boats, all things marine, exotic destinations and, more recently, real estate.
For Palm Cay, the $200 million beachfront and marina community rising on Nassau's southeastern shore, there was a steady stream of traffic at the booth they shared with the Bahamas Ministry of Tourism from opening to closing daily.
"There were a few times when people lined up to get more information about The Bahamas and about Palm Cay," said Zack Bonczek, Palm Cay Director of Sales and Marketing.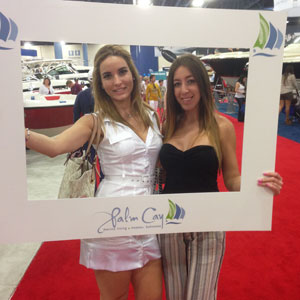 "Of course, we were trying to make it fun, too, encouraging show goers to enter in a Palm Cay photo contest to win a free weekend stay in one of our beachfront townhomes. This was our third year at the show and it was by far the best in terms of interest. That's good news not just for us but for The Bahamas as a whole and we were pleased to be able to share The Bahamas' booth."
The Ministry of Tourism and Palm Cay have partnered on fishing tournaments, a local boat show at Palm Cay and other events, including past boat shows in Miami. Bonczek attributed the increase in interest in part to the completion of the 194-slip Palm Cay Marina, the largest in number of slips in New Providence.
"For boaters, a development that offers a marina within its gates is a dream come true and Palm Cay Marina is also the closest to Exuma, slicing about 10 miles off the trip from mid-town harbour marinas," said Bonczek. The marina includes a 10,000-gallon diesel tank and a 4,000-gallon gas tank, both with full fuel service, and will soon feature Chives Dockside.
The boat show ran from February 14-18 at the Miami Beach Convention Center and other locations in the area. Organizers say that the annual event generates a trickle-down economic impact of nearly $600 million. An average of 3,000 boats and 2,000 companies exhibit in 2.5 million square feet.
For Palm Cay, the show presents one of the best opportunities of the calendar year to show the development that sits on nearly 70 acres and features more than 300 single family home sites, seafront townhomes, newly introduced one and two-storey condominiums, two pools, a clubhouse, tennis courts and soon to come, a full-fledged restaurant, the Billfish Grill, set to open in March. The beachfront tropical style development is focused on community-building. The development is right on target, meeting all self-imposed deadlines and ahead of schedule in interest in multi-family residences.
Diane Phillips and Associates
Captions (from top to bottom):
Captivating Captains at the Boat Show
Insta-Paradise — Boat-goers were invited to get a feel for the development by snapping instant photos in the jumbo Palm Cay frame. 
Getting the Picture with Palm Cay – Scores of people line up to get more information about the fast-growing Palm Cay development at the Miami International Boat Show. They were rewarded with pictures of themselves in Palm Cay frames, a new twist on the next best thing to a selfie.
Dog Day Afternoon – Pampered pooches get in the act when the popular development in The Bahamas held a contest for best photo at the Miami International Boat Show the winner gets a weekend stay in one of the luxury beachfront townhomes on Nassau's southeastern shore. 
Framing Things Up at the Miami International Boat Show – Crowds at the Miami International Boat Show this month showed the highest interest in The Bahamas and in Palm Cay that reps have seen in the past three years, says Palm Cay Sales & Marketing Director Zack Bonczek, far left.