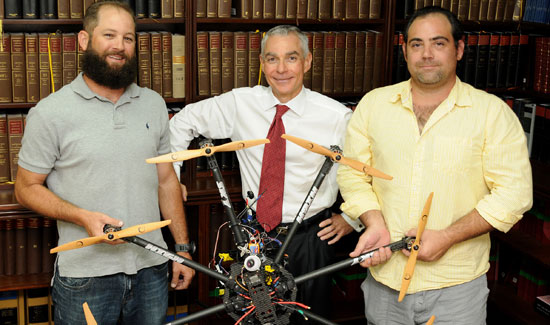 Lance Knowles and George Mosko, the two young Bahamians whose unmanned aerial vehicle (UAV) photography and cinematography business has skyrocketed since its launch just over one year ago, said they will seek government's consideration of regulating the rapidly expanding drone industry.
Knowles' and Mosko's company, Sky High Media LTD, has employed highly sophisticated camera platforms mounted on multi-rotor UAVs to do work for government agencies, security, major resorts, real estate developments, on movie sets and more.
They have just wrapped shoots in Florida for Busch Gardens and Sea World, and are leaving this week for a shoot in Grand Cayman.
But while they are taking the business of unmanned aerial cinematography to new heights, they worry that an unregulated atmosphere could lead to an explosion in the popularity of drones with hobbyists failing to recognize or honour rules of the airways.
"It may sound strange to ask for regulations where none exist," said Mosko. "But for us, this is very serious business. We have invested hundreds of thousands of dollars in equipment. Nowadays, you can buy a drone off the shelf at a hobby store for less than $1,000 so you can imagine the chaos that could erupt in the skies if the quickly evolving industry is not regulated."
So serious are the founders of Sky High Media that they secured the counsel of Boyer-Cartwright before they started their business to ensure they complied with all local general aviation laws. Now they want to pursue further legislation specific to drones to make sure the public has a clear set of rules governing their use, on all topics from privacy to safety.
"The UAV or drone technology is changing so fast that governments are scrambling to keep up with it," he said. "Canada and Australia already have legislation and regulations and I suspect we will see a lot more activity by other governments in the very near future. A few days ago the Associated Press issued a story about the United Arab Emirates experimenting with drones delivering government documents.
"Over the holidays we heard Amazon President Jeff Bezos predict the company would one day deliver packages by drone. While that may be a bit far-fetched for now, the mere mention of it shows that unmanned aerial delivery systems, whatever term you use for them, are going to play an increasingly important role in the future. I would like for the government to review and consider this expanding area of aviation and establish rules and regulations or at least guidelines as a matter of safety."
For Sky High Media Ltd, drone cinematography requires technical knowledge, technique and respect. Although they build the machines in Mosko's bachelor kitchen, one completed drone can cost up to $35,000. Once a platform is completed, it is put to several tests, including flight and stress tests, deliberately overloading it to test its mettle. "Knowing what you are doing takes a lot more than buying one off the shelf," says Mosko. "The precautions we take are 10 times what the civilian does to prepare."
Though the company is new, both men are experienced in photography and in flight. Mosko's first experiment with remote control was more than 25 years ago. "It went from cars to trucks to planes and now photography," he says. Not surprising for someone who's other hobby was photography. Knowles took a more roundabout route to unmanned aerial videography, working in a variety of fields, but all with intense responsibility requirements and his familiarity with equipment from cars to boats to cameras is extensive. When Sky High is on a shoot, it's Knowles who is on the ground controlling the drone in the sky, while Mosko controls the camera movements. They are both equipped with long range wireless controllers that also receive wireless video transmissions from the drone and camera system.
With long range control systems, they can operate the drone over 1,500 feet away.
"These men are out there every day and they have reason to be concerned about non-professionals failing to recognize air space," said Boyer-Cartwright, "but if there are no rules, then it could become a free-for-all without regard for safety. And this is something that needs to be dealt with sooner rather than later because you can't say drones are coming. They're here."
Diane Phillips and Associates
Caption: Sky's the Limit – Lance Knowles, left, and George Mosko, right, founders of Sky High Media, the fast-growing unmanned aerial photography and videography company, with Aviation Law specialist Llewellyn Boyer-Cartwright, Callenders & Co. partner. Sky High is seeking government guidelines or regulation for unmanned aerial vehicles, also known as drones, to keep the skies from becoming overcrowded, unsafe and a threat to the burgeoning industry itself. (Photo by Derek Smith, Jr., for DPA)