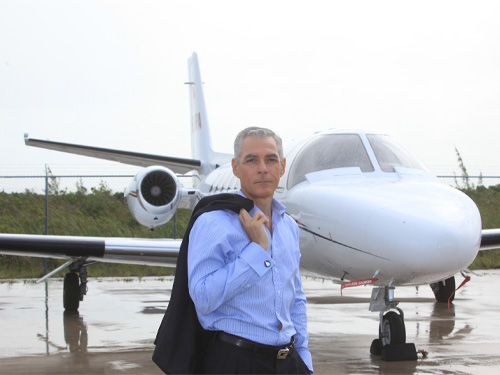 With The Bahamas moving closer to enhancing its existing aircraft registry to meet or exceed standards of successful offshore registries, the most vocal proponent of creating a Bahamas international aircraft registry today congratulated government on "moving so quickly and deliberately" on both the registry and action to safeguard FAA approval of the nation's air safety ratings.
"The timing for the initial phases of creating a framework for the establishment of an international aircraft registry could not be better," said Llewellyn Boyer-Cartwright, a former commercial pilot and now a partner at Callenders law offices where he specializes in aviation law.
"The global forecast for business and corporate jets which would form the basis of The Bahamas International Aircraft Registry has never been stronger. If you look at the projections for the coming decade, nearly one in every three owners — corporate, partnership or individual — plans to replace or purchase new aircraft in the next five years. That is an amazing figure. And over the next 10 years, it's projected that there will be some 10,000 deliveries of new business jets worth some $250 billion. Every one of those new builds or deliveries has to be registered somewhere."
Add new deliveries to the existing body of jets and the opportunity, he says, is great.
"In our discussions about establishing an international aircraft registry, we have stressed the need for a quality registry with stringent standards, modeled after our successful ship registry," said Boyer-Cartwright.
"We do not want to be a flag of convenience. We must aim for a name that symbolizes security, prestige, a premiere registry supported by all the economic opportunities for local businesses from aircraft financing to security services, insurance, legal work, maintenance and repair, fueling, catering, chartering, FBOs operations and more."
Boyer-Cartwright's comments came on the heels of the Ministry of Transport & Aviation's positive news.
"The Minister of Transport & Aviation's announcement that a threatened FAA downgrade that could have crippled air traffic had been averted with officials, including Captain Patrick Rolle, taking efficient and effective action was greatly welcomed news," he said.
"And I think because of the planned creation of a Bahamas Civil Aviation Authority, The Bahamas will be in the strongest position in its civil aviation history. I honestly believe we are entering a new era in air traffic safety, security and operations."
Touting the friendly skies of The Bahamas has taken Boyer-Cartwright from one conference to another this year, several on an invitational basis. Next week, he heads to Germany for a conference and in December, he's been invited to address the world's leading business and corporate jet owners, financiers and attorneys at the Aruba Aeropodium Offshore Aircraft Conference. It will be his fifth this year and Boyer-Cartwright estimates he's logged well over 20,000 miles promoting The Bahamas as a great place to live, do business and vacation.
"The government worked diligently to avoid an imminent threat to downgrade our civil aviation sector from Category 1 to Category 2," he said. "They have successfully managed to raise the nation's aviation standards to meet and comply with FAA and ICAO standards."
At the same time, he noted, the FAA's and US Department of Transportation policy changes as they relate to non-citizen trusts will no doubt make offshore registries more appealing. In addition to this, a few months ago, the FAA announced that Stage Two business jets will no longer be able to operate in the US after December 2015. That, says Boyer-Cartwright, may force those aircraft owners to register their aircraft elsewhere.
"In short, Stage Two relates to the noise level a jet aircraft produces particularly on take-offs and landings. The majority of the airports in The Bahamas are not in the midst of cities but tend to be situated in low density areas, we may be able to decide whether or not to accommodate these aircraft, including many of the manufacturer names that only a decade ago were associated with the glitz and glam of the skies.
The implementation of this new policy could force as much as 60 percent of all related aircraft to register elsewhere. Many of these aircraft, considered top of the line not long ago, are now aging with large numbers failing to qualify under new standards.
"Naturally, this creates an opportunity for The Bahamas, with owners looking for an alternative jurisdiction," he continued.
"In fact, other jurisdictions are already preparing for the exodus of some 600 aircraft that are affected by the rule. However, we must act with prudence. While it is important for us to capitalize on opportunities, we must be selective." Other countries in the region have established registries with much success. Bermuda currently has more than 700 aircraft registered, the majority of those commercially operated. Isle of Man is currently ranked the number one offshore aircraft registry in the world.
Diane Phillips and Associates
Caption: Callenders Partner Talking Bahamas Friendly Skies — Llewellyn Boyer-Cartwright, a former commercial pilot, now a partner at Callenders law offices specializing in aviation law, prepares to head off to two upcoming international aviation conferences. The first is in Germany next week. In December, he is addressing a major corporate and business jet aviation industry conference in Aruba. Boyer-Cartwright has logged more than 20,000 miles this year, promoting The Bahamas and helping to lead a campaign to make The Bahamas the world's newest and most attractive aircraft registry, a move, he believes, that will open countless economic opportunities.