Johnson Issues Challenge To FOCOL
October 1, 2013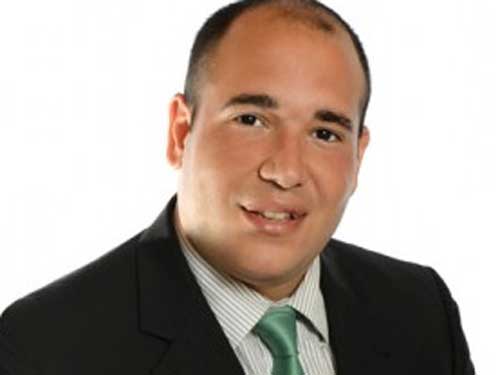 Tensions continue to rise on Grand Bahama as a result of what many consumers consider to be the high cost of premium fuel sold by leading fuel provider Freeport Oil Company Limited (FOCOL) and local attorney and Democratic National Alliance spokesman Osman Johnson has challenged FOCOL and the Ministry for Grand Bahama to provide answers on the issue to the public.
"Today I am issuing a direct challenge, both to Freeport Oil Company Limited (FOCOL) and the Ministry of Grand Bahama, in that the people of Grand Bahama are demanding a clear timeline from FOCOL as to when it will re-introduce the regular fuel product to the market and for the ministry to take a stand on this issue.
"We are being forced to pay well above the odds in regards to fuel simply because this company has made a unilateral decision to withdraw a fuel product from the market.
"Their decision is totally unwarranted and there is absolutely no justification that can be seen as to why in Grand Bahama, unlike anywhere else in The Bahamas we are obliged to pay for premium fuel  products,  when  in truth the regular fuel supply should be reinstated," said Johnson.
Johnson charged that clear answers and guidelines from FOCOL must be given to the public, as at present the only parties suffering from this artificial increase in fuel costs are the consumers on the island.
"The people of Grand Bahama are not going to remain silent any longer, FOCOL, as you are aware has not provided any explanation as to why the regular fuel product was withdrawn and neither have they given the people any answers as to when normal fuel services would resume.
"We need to have this answered because it is simply unacceptable for consumers to pay for premium fuel, be it from a business perspective or in respects to the needs of our people.
"FOCOL is the monopoly fuel supplier in Grand Bahama and it is unacceptable for it to maintain an artificial pricing system where the company alone decides which product the market has available to it.
"Furthermore, FOCOL cannot claim that since the contaminated fuel crisis every gallon of regular petrol which could have been purchased thereafter is contaminated," he said.
According to Johnson, the government has a role to play in all of this, as it is apparent the Ministry for Grand Bahama is aware of the situation, which is prevalent within the community at large.
"The ministry is cognizant of the unique relationship FOCOL has in terms of the company being the sole supplier of petrol for the island of Grand Bahama and we are demanding it take action against FOCOL and if necessary penalize the company for what is currently taking place.
"There is no legal provision under the statue laws of The Bahamas which allow for a monopoly supplier to withdraw products from the market without any explanation.
"In my view FOCOL is committing a breach of consumer rights and is taking absolute advantage of the decrepit state of this island.
"FOCOL is taking advantage of our people directly and is taking financially from our ability to maintain our lifestyles and again this is totally unacceptable.
"Why is FOCOL allowed to force consumers to pay $5.55 for petrol when we all know there are lower cost fuel products available, even as close as Florida?
"Why must we be forced to pay the higher price?
"Unless FOCOL can provide any legal basis for its actions, the people of Grand Bahama are demanding a clear, concise and complete explanation for the withdrawal of regular fuel and a deadline as to when it will be reinstated," Johnson demanded.
The profit margins that FOCOL has made from this latest development are massive said Johnson and he notes the people of Grand Bahama are interested in just how much of it will the company reinvest into the local community.
Currently, Grand Bahamians are trying to survive the hard economic times being experienced and some have accused FOCOL of "playing the role of puppet-master" in regards to their wallets and how much they are charged for fuel.
One consumer said, "I feel something really must be done because these fuel prices are just too high for the average consumer.
"Honestly you need to be rich and have a disposable income in order to drive a vehicle nowadays.
"FOCOL in my opinion has been taking advantage of motorists for too long and have not been made to suffer some consequence as a result of their heartlessness.
"The company is run by rich men representing either side of the political divide in this country and they are providing no 'sunshine' for the poor people of this community.
"Not so long ago $10.00 could get you at least two to three gallons of gas, but now it is not worth it to pull up to the pumps for 10 bucks because by the time you restart your vehicle half the gas you put in is gone and you haven't even left the station.
"This leads me to wonder if you are even getting a full gallon of gas when you go to the pumps and I want to know why are we forced to accept whatever FOCOL dishes out, I mean shouldn't the Ministry for Grand Bahama be working on our behalf to bring us some answers so we can get some financial reprieve at the pumps?"
Even more fuel consumers are looking for FOCOL to be transparent in all their undertakings, give an apology to the motoring public for what they consider to be ill treatment rendered and all are adamant that it is imperative for the government, especially the Minister for Grand Bahama to address the premium fuel crisis that seems to be burning a hole in the pockets and wallets of motorists.
"If necessary I will go before the courts and have FOCOL answer to these artificial increases in fuel costs," added Johnson.
"The company needs to be held accountable and answerable to the people of Grand Bahama and moreover the Ministry for Grand Bahama should have already come forward to intervene on behalf of the people," said Johnson.
Calls to FOCOL and the Ministry for Grand Bahama for comments on this issue have not been answered up to press time.
By: Sharell Lockhart
Freeport News Reporter