Human Error Likely In Pineapple Air Incident
October 1, 2013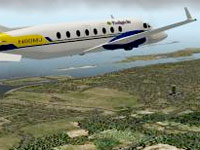 Human error may have led to the door of a Pineapple Air plane "flying open" mid-flight last week, according to Hubert Adderley, manager at the Flight Standards Inspectorate.
Adderley said the Civil Aviation Department has nearly completed its investigation into the incident.
He said equipment malfunction was ruled out. "When we checked the system, the doors were working properly," Adderley told The Nassau Guardian.
When asked if the situation happened due to human error, he said: "That's pretty much the conclusion we were able to draw from this.
"It's still difficult to prove that someone left the door open or did not close it properly or that there was a malfunction. Everything worked the way it should."
When asked if the department would penalize the airline, Adderley said no. "We don't penalize our people for an incident," he said.
Adderley previously told The Guardian that after the investigation was completed the airline may be asked to put extra precautions in place.
The plane left Lynden Pindling International Airport (LPIA) last Sunday afternoon en route to San Salvador but returned to the airport shortly afterward.
A San Salvador resident who was on the flight, who wished to remain anonymous, said she was sitting two rows in front of the door, which reportedly opened.
"The lady who was next to the luggage compartment door screamed and everybody looked back and that's when we realized that the door was actually open," she said.
"She was exposed to the outside and the other two people who were seated next to her grabbed her."
The passenger said the plane was flying over a lake at the time, which added to her fears. She said she began praying for the plane to land safely as some pieces of luggage fell out of the aircraft.