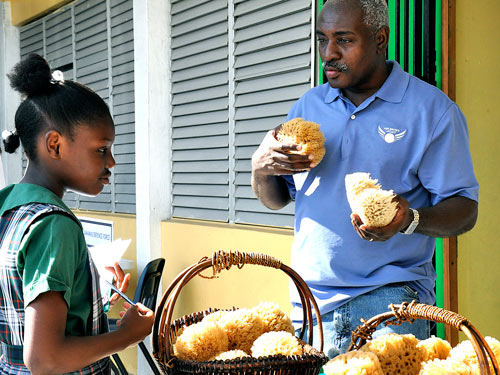 Under the theme, "Transforming Mindsets & Embracing Opportunities to Financial Empowerment" schools across the Bahamas celebrated National Careers Day on Tuesday, 22nd October. Students participated in school wide activities coordinated by Guidance Counselors.
The day was a part of the calendar of events for the 6th Annual National Career Awareness Month organized by the Guidance Counseling Unit, Special Services Section of the Ministry of Education, Science and Technology and twenty-three partners from the major industries and public and private sector agencies. The purpose of the exercise was to expose students, parents, educators and the community to job opportunities that will be available in the near future.
It is also an attempt to transform the thinking and attitude from traditional views to a more innovative and practical approach, to equip students with the necessary career knowledge for critical thinking and decision-making, and to give insight on how to transform your passion into a career in a challenging economy. The Guidance Unit's career focus for this school year includes the Hotel, Tourism, and Maritime industries, Technical and Vocational skilled areas, and Entrepreneurship.
During a Special Assembly, students at Ridgeland Primary School observed a demonstration presented by the Officers and dogs of the K-9 Unit of The Royal Bahamas Police Force. Officers Campbell, Burnside and Jones along with Drug dog Joey and Attack dog Falco completed role-plays to demonstrate the role of their unit in the fight against crime.
Following the assembly, students spoke to invited guests who were present to talk about their careers and items that they had on display.
There were representatives from Dragon Pet Store, the Guidance Counseling Department, B.A.I.C, Sandilands Rehabilitation Centre, the Occupational Therapy Unit, Out of the Box Graphics, Healthy Foods Restaurant, and The Royal Bahamas Police Force Fire Services and K-9 Unit.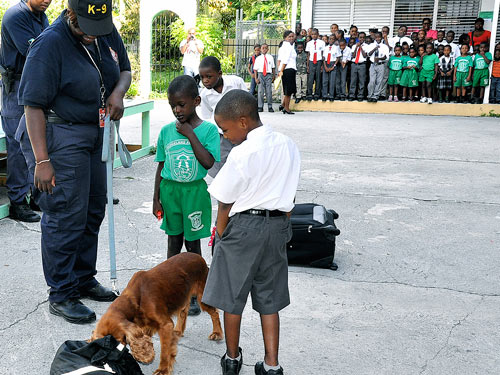 Students of Ridgeland Primary School observed as Drug search dog, Joey, inspected a bag at the Careers Day Special Assembly. Officer WPC-2824 Burnside held the leash as Joey searched.
The students of St. Anne's Primary School were transformed into National Greeters, Immigration Officers, Customs Officers, Tourism Information Officers, Taxi Drivers, Hoteliers, Hosts, Busboys, Waiters, Waitresses and Chefs as family and friends, posing as Tourists, visited the campus for Careers Day.
The guests were taken through the processes of arrival at the airport, hotel check-in, visiting the straw market and dining at a fine Bahamian restaurant. Mrs. Nicolette Archer, Vice Principal said that the success of the day was a reflection of the hard work of the Guidance Counselor, Ms. Antoinette Burrows; the Tourism Studies Teacher, Ms. Arlene Major; the Teachers and Parents. She noted that a lot of research and training occurred to get the students prepared to play their various roles. Mrs. Archer said that Careers Day is always an exciting time at St. Anne's School.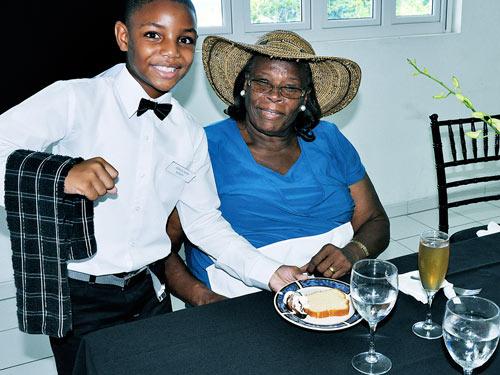 Caption: Joshua Dean, a Grade 5 student of St. Anne's Primary School served the dessert of the day to Ms. Barbara Sweeting at The All Bahamian Restaurant on Careers Day. (Photo by Aletha Cooper)
Other events on the calendar for National Career Awareness Month include:
National Speech and Essay Competitions – Thursday 24th October
Youth Empowerment Day – Friday 25th October
Fresh Start Launch – Monday 28th October
Family Island Counselors Workshop – Tuesday 29th October
PX2 Workshop – Wednesday 30th – Thursday 31st October

Caption: Guidance Counselor, Mrs. Kim Rahming, shared some information with a student of Ridgeland Primary School at the Careers Day Fair. (Photo by Aletha Cooper)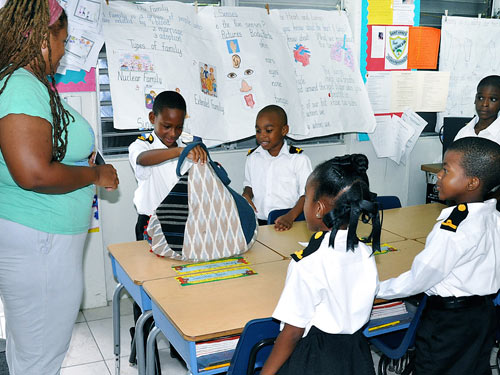 Caption: A "tourist" went through the bag search process as Grade 2 students played the role of Customs Officers on Careers Day at St. Anne's Primary School. (Photo by Aletha Cooper)
Ministry of Education, Science and Technology
Top photo caption: Mr. Andrew Burrows, Proprietor of My Sponge Bahamas, discussed the process of obtaining sponges and its uses with a student of the Ridgeland Primary School at Careers Day. (Photo by Aletha Cooper)