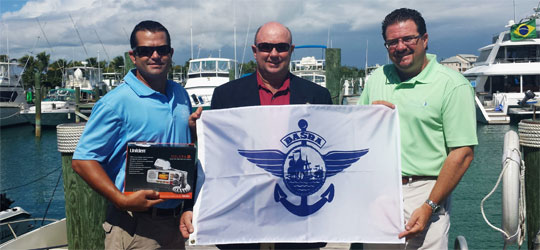 Bahamas Air Sea Rescue Association (BASRA) recently selected Palm Cay to become the first outpost established on the southeastern part of New Providence. As the third strategically placed station on the island and the closest to Exuma, Palm Cay will monitor for emergencies, weather alerts and distress signals from boaters.
"We're delighted to welcome Palm Cay Marina to our network of stations monitoring VHF 16, the international hailing and distress frequency," said BASRA operations manager Chris Lloyd. "Palm Cay will supplement the other stations on the island and make monitoring and communication even more efficient, especially for the many mariners heading to and from the Exuma's and fishing off the banks."
BASRA donated a VHF radio and antennae set for installation at the gated community's marina and provided an official call sign: BASRA PALM CAY. The voluntary search and rescue organization also has plans to train Palm Cay staff on radio etiquette and procedures for may-days, pan-pans, securites and other dangerous situations.
"I'm really excited about the opportunity to assist a great organization like BASRA," said Palm Cay Harbourmaster Brooks Russell. "The partnership sprouted when we hosted a recent Marlin Marinefishing tournament in aid of BASRA. In talking with Chris Lloyd, we clearly saw that this would fit in nicely with our goal to give back to the marine community."
BASRA is a dedicated non-profit voluntary organization committed to saving the lives of distressed seamen or airmen in the Bahamas. It has one full-time administrator Monday thru Fridays 9am to 5pm.
With more than 300 single family home sites, seafront townhomes, newly introduced one and two-storey condos, and the island's largest small to mid-sized marina, the secure, beachfront tropical style development known as Palm Cay is focusing on building a community. Plans call for a complete build-out by 2017.
Submitted by Diane Phillips and Associates
Caption: Giving Back to Boating Community: Palm Cay Marina has officially become the third BASRA outpost in New Providence and the only station on the southeastern side of the island. Pictured l-r: Brooks Russell, Palm Cay Marina Harbourmaster; Chris Lloyd, BASRA Operations Manager and Zachary 'Zack' Bonczek, Palm Cay Director of Sales & Marketing. (photo courtesy of Palm Cay)