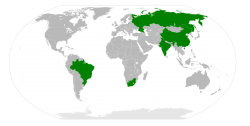 The United States, the United Kingdom and Canada remain the primary source markets for Caribbean tourism — but with the global tourism market getting more and more competitive, that will likely start to shift in the years to come.
As more Caribbean countries, out of necessity, look to diversify their origin markets, Brazil, Russia, India, China and South Africa "continue to show great potential as new tourism source markets for the Caribbean," Caribbean Tourism Organization Board of Directors Chairman Chantal Figueroa wrote in a message last week to begin Caribbean Tourism Month.
The question is how to tap into them.
For Keith Nurse, a tourism expert and the executive director of the UWI Consulting Company in Jamaica, there are several major challenges in attracting the BRICS —notably airlift and marketing — but each source market has its own challenges.
Click here to read the complete article at Caribbean Journal