Financial Services Official Participates in U.S. Professional Exchange
November 4, 2013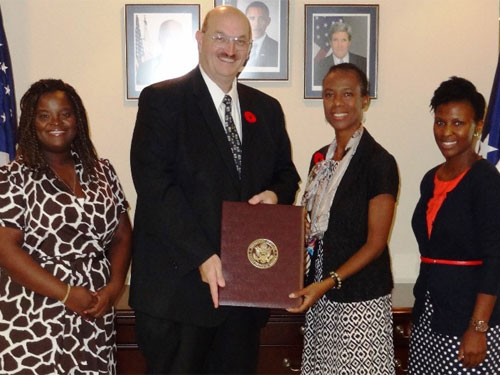 On November 1, Ms. Charice Rolle, Senior Assistant Secretary in the Ministry of Financial Services paid a courtesy call on U.S. Chargé d'Affaires John Dinkelman following her participation in the U.S. Department of State's International Visitor Leadership Program (IVLP) professional exchange "Combating Trafficking in Persons".
During the two-week exchange held from August 17-31, 2013, Ms. Rolle visited Washington, D.C., Portland, Oregon and San Diego, California. She was among a delegation of twenty-two participants from: Australia, Bahrain, Cyprus, Germany, Ghana, Ireland, Latvia, Liberia, Macao, Macedonia, Malta, Mexico, Philippines, Portugal, Serbia, Singapore, Sweden, Tanzania, Trinidad and Tobago, Turkey and the United Kingdom that consisted of both law enforcement officials and victims' advocates. The participants had the opportunity to examine U.S local, national, and international efforts to combat trafficking in persons; present innovative law enforcement strategies for preventing, investigating, and prosecuting trafficking crimes; and discuss awareness and education efforts and international cooperation in combating trafficking in persons.
During the courtesy call with Chargé Dinkelman, Ms. Rolle discussed what she learned and how she has already started to apply her experience to human trafficking initiatives in The Bahamas. She noted that she found a number of surprises during the trip, even though it was not her first visit to the United States.  Citing the group's visit to the San Ysidro Port of Entry into the United States (from Mexico), she was "overwhelmed" by the sheer numbers of people constantly moving through this border, noting that she was not expecting this data and she therefore had a greater appreciation for the amount of work needed by immigration services at this location. Ms. Rolle was also very grateful for the chance to interact with what she described as "the uniquely American, grassroots non-profit culture – which does not exist in the Bahamas."
US Embassy, Nassau
Caption: Myra McPhee, Education and Cultural Specialist, U.S. Embassy; U.S. Chargé d'Affaires John Dinkelman; Ms. Charice Rolle and Public Affairs Officer Neda Brown.