FNM Questions Government Priorities on Bank Infusion
November 6, 2013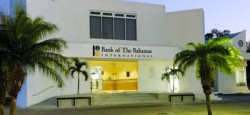 The Free National Movement's (FNM) chairman yesterday called into question the Government's financial priorities in light of its $31.5 million capital injection into Bank of the Bahamas International (BOB), telling Tribune Business: "There appears to be a bigger story than meets the eye".
Commenting on recent statements in Tribune Business by Bank of the Bahamas International's managing director, Paul McWeeney, who said it was effectively looking for its majority Government shareholder to underwrite its branch expansion to Bimini and Abaco, Darron Cash said there was always a "major concern" with the Government's level of involvement in the bank's operations.
Mr McWeeney told Tribune Business that the bank was hoping the Government could "offset" some of the losses it was likely to incur in the initial Family Island expansion stages by putting business its way.
The Government (via the Treasury and National Insurance Board) has increased its majority stake in Bank of the Bahamas International from 51 per cent to 65 per cent, via the injection of $31.5 million in new capital into the BISX-listed bank. This has diluted other shareholders.
""The Managing Director's statement that he was looking for the Government of the Bahamas to subsidise part or all of BOB's initial Bimini operations does not square with his other statement that the groundwork for establishing Bimini operations had already been done before the Prime Minister gave the Bank its marching orders," Mr Cash said.