After speeding around the capital last week, entrants and organizers from Bahamas Speed Week slowed down on Monday with an elaborate excursion to the luxurious Grand Isle Resort & Spa.
Culminating in a private soiree overlooking Emerald Bay, it served as the final crescendo in an experience that struck a cord with Speed Week entrants.
Members of Speed Week and other VIPs boarded private planes in Nassau and landed on Farmer's Cay. The runway, normally quiet and secluded, came alive with four private planes and a helicopter.
Participants enjoyed a buffet lunch at Ty's Bar & Grill, hit the beach and boarded a vessel for a tour of Exuma's sprawling cays. Later that night, Grand Isle hosted a private reception, lit up by spotlights, stars and torches.
"As the official Out Island partner of Bahamas Speed Week, we were very pleased to have such an impressive line-up of dignitaries and guests," said Grant Castle, executive director at Grand Isle. "We look forward to next year, where the event will be even bigger and better."
Grand Isle features well-appointed ocean front villas combining an intimate resort experience with upscale vacation home living. Each villa comes with high-end furnishings, spacious living areas and spectacular views. Amenities include an infinity-edge pool, four-star restaurant, state-of-the-art fitness center, and SeaStar Spa with an adjacent Greg Norman Signature Golf Course.
TripAdvisor recently ranked the resort 1st in the Bahamas and 3rd in the Caribbean for luxury vacations.Castle offered one of many speeches to the crowd, headlined by a keynote address by Philip "Brave" Davis, the acting prime minister and minister of public works and urban development. Davis was serving as acting prime minister while Perry Christie attended the memorial service of Nelson Mandela in Johannesburg South Africa.
Other speakers included Jerome Fitzgerald, the minister of education, Tony Moss, Member of Parliament for Exuma, David McLaughlin, the director of Bahamas Speed Week, and Peter Nicholson, owner at Grand Isle and president of GIV Bahamas Inc.
"We see Bahamas Speed Week as a natural partner going forward," Nicholson added. "Nassau is a beautiful place, but we want to expose these special guests to a wider Bahamas."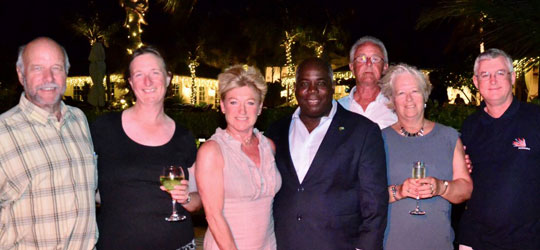 A central theme of reception was the imminent construction of a full racetrack for next year's festivities. Seen as a key ingredient to the event's success, Davis announced the construction of the track during the opening ceremonies early last week.
Bahamas Speed Week attracts dozens of vintage car collectors from around the world, exposing the archipelago to influential, high-net-worth individuals and offering another major event on the tourism calendar.
In Nassau, Grand Isle also served as a major sponsor during the week in the exclusive Paddock Club, showcasing the resort's villas, amenities and stunning geography to Speed Week entrants.
"Putting on these kinds of events is never easy. But with the help of Grand Isle and other sponsors, and the construction of a racetrack, I believe this event will really start to pick up some speed," according to Nicholson.
ABOUT GRAND ISLE RESORT & SPA:
Located on Emerald Bay in Great Exuma, a magnificent island located in The Bahamas, Grand Isle Resort & Spa is a stunning ocean front villa resort. The exclusive gated community consists of 78 luxuriously appointed 1- to 4-bedroom villas, decorated in color palettes inspired by the sea, lush landscape and tropical ambience. The villas range from 1,250 sq. ft. to 5,200 sq. ft. and offer a fully equipped kitchen, spacious living area, high-end amenities and extraordinary views.
Grand Isle is one of the finest resorts in the Caribbean and is the perfect location for a Bahamas Out Islands vacation. Ideally suited for family holidays, romantic getaways, destination weddings and honeymoons, or for simply enjoying the beach, a luxury villa vacation at Grand Isle is an experience never to be forgotten.
Villas are available for sale and rent. For reservations, contact 866-380-5213 (US toll- free), 214-393-2841 (US direct). We can book your air and hotel for convenient one-stop travel planning and best value. For real estate inquiries, be sure to visit our Sales Office on property. Or contact 242.358.5243 to reach the Sales Team. Visit www.GrandIsleResort.com for additional information.
Grand Isle Resort & Spa
Captions (in order from top to bottom):
A group representing Bahamas Speed Week and other guests arrived by private plane on Farmer's Cay in Exuma to enjoy lunch and water sports. They joined other guests and dignitaries at Grand Isle Resort & Spa later that evening. CREDIT: BahamasLocal.com
The Speed Week Models strutted their stuff for the evening reception at Grand Isle Resort & Spa. CREDIT: BahamasLocal.com
Philip Brave Davis, deputy prime minister and minister of public works and urban development, attended the reception last Monday at Grand Isle Resort & Spa. David McLaughlin, far left, the director of Bahamas Speed Week, said Grand Isle is an ideal Out Island partner going forward. CREDIT: BahamasLocal.com
Peter Nicholson, an owner at Grand Isle and president of GIV Bahamas Inc., addressed the crowd on Monday night. He believes Bahamas Speed Week is a natural partner for Grand Isle. CREDIT: BahamasLocal.com