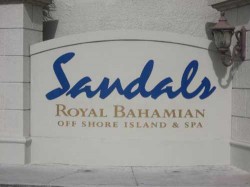 Sandals Resorts International has plans to build its new corporate headquarters in the Bahamas, Prime Minister Christie told an audience at a Bahamas Hotel and Tourism Association (BHTA) forum on corporate strategies for leadership.
"The Sandals group has made a commitment to locate its headquarters in the Bahamas, and now to build that headquarters in The Bahamas," Mr Christie said.
"Sandals and Unique vacations are expected to break ground on their new corporate headquarters in New Providence, which will provide many additional jobs in marketing, accounting and IT services," he added.
Unique Vacations is the advertising and IT portion of  Sandals Resorts International.