Government Undergoes Training For VAT
January 9, 2014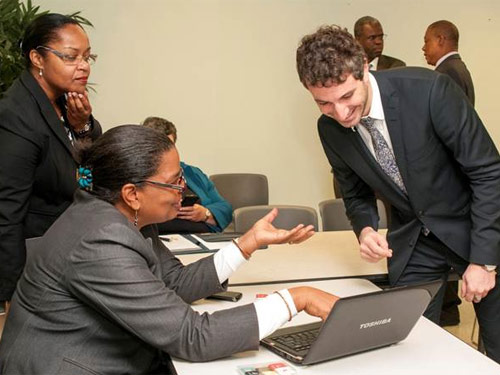 With six months to go before the new Value Added Tax (VAT) system goes live, top officials and representatives from various government ministries and departments have begun training with international consultants from New Zealand and Canada.
"We are committed to ensuring that all partners of the VAT process are intricately involved at every stage to make the implementation as smooth and seamless as possible," said John Rolle, Financial Secretary in the Ministry of Finance.
"The government has engaged consultants who have had years of experience working with VAT and tax systems, processes and procedures. Since their arrival the first of this week, they have been conducting hands-on working sessions with officers and those who will become trainers. The ministry will continue to give careful attention to managing the pending change, system implementation and communication."
According to Carol Roach, Deputy Director, Ministry of Finance Department of Information Technology, the electronic system for VAT processing and report generation is simpler than current tax collection processing.
"In many ways, the system The Bahamas is adopting is actually more user- friendly than current systems in other highly industrialized nations," Ms. Roach said.
"Although we are coming into a VAT system years later than many other countries, we are benefitting from lessons learnt with regards to processes and procedures, as well as taking advantage of the latest version of the technology. This combination puts us in a position to make our collection and recovery system much more efficient than any of the ones we currently have. The Bahamas will be on the leading edge of tax administration for VAT."
Listening and evaluating input of stakeholders and validating requirements are other key components of the government's meetings and discussions.
Value Added Tax has been the 'choice' taxation method for over 160 countries worldwide since it was first implemented in 1950.
Diane Phillips and Associates
Caption: Carol Roach, Deputy Director at the Ministry of Finance's Department of Information Technology (seated) and Philippe Dadour, Associe Gestionnaire Managing Partner discuss the functional benefits of the system being used for the implementation of VAT in The Bahamas at a working meeting held on Tuesday January 6, 2014 at the Ministry of Finance. Looking on and providing input is June Collie, Director of the Department of Information Technology.