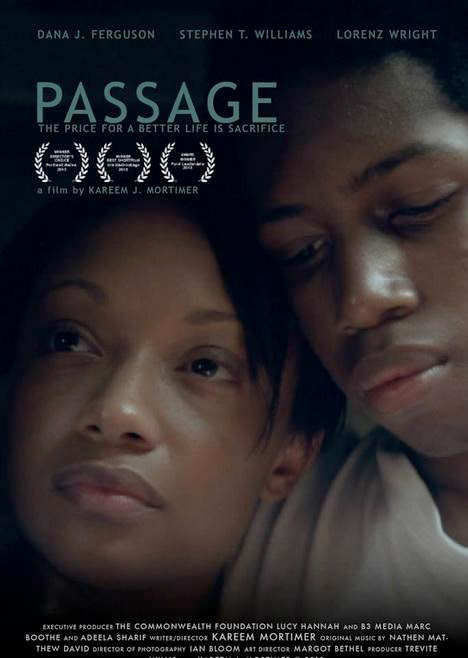 Award winning filmmaker Kareem Mortimer anticipates 2014 will be a very busy year between the world wide screenings of his latest film Passage, closing the financing for a new film and producing more work. Kareem recently became the first Bahamian filmmaker to screen in Havana, Cuba at the International Festival of New Latin American Cinema in the festival's 35 year history.
He has been travelling the festival circuit with the short film and is also in the process of developing a feature film, Cargo.
Passage tells the story of a young woman and her brother fighting for survival while being smuggled into the United States on a fishing vessel.
"Passage has been quite successful. It was made through an initiative of the Commonwealth Foundation. Passage was one out of six films given the grant out of over 3500 applicants. It has won three film festival awards and has been screened in over a dozen venues around the world. Additional support was received through BTC, Endowment for the Arts, RBC and The Ministry of Tourism," he told Tribune Entertainment.
Passage screened in New Zealand at the Commonwealth Writers Forum, The Aruba International Film Festival, Encounters Film Festival-Bristol, Fort Lauderdale International Film Festival, FLIFF Grand Bahama (Winner, Best Film), Trinidad and Tobago Film Festival (Winner Best Short), Portland Maine Film Festival ( Winner), Havana Film Festival.
It will also be showcased in the upcoming Pan African Film Festival (Los Angeles), Clermont Ferrand (TTFF ShowCase), CBA Worldview Showcase London, Pride Of The Ocean Film Festival.
The film's success surpassed Kareem's expectation and with every screening its message is communicated to more people, he told Tribune Entertainment.
Kareem also said several years has passed since he did a narrative project, with the last being the feature film "Wind Jammers" (2011) directed with Ric Von Maur.
"With the critical success of Children of God which had a three year festival run I decided to take time to focus on my documentary work. This included my work as an editor on Womanish Ways; my work as an editor on A Man With A Voice: The life of Norman Solomon; my work as an editor and producer on the When A Man Dreams Dreams the Life of Winston Saunders; and the short documentary that I made called SHE. It was a real treat to get back into the groove of working with actors and crew members. I had not realized how much I missed it and for the film to be as successful as it has so far has exceeded my expectations," he said.
While Passage is still making its rounds at international film festivals Kareem has other plans for the film. He said he has been presented with several distribution opportunities and is currently in negotiations with several international companies.
"For the Bahamas, I am planning a series of screenings in Nassau, Grand Bahama, Abaco and Eleuthera. The first screening is at the NAGB January 23 at 6.00pm followed by a panel discussion on immigrant rights. FirstCare Medical Plan has graciously given us the opportunity to share our film in Grand Bahama and Abaco. The most important thing to me is to get as many eyeballs on this film as possible.
"Passage is also a pre-cursor to my upcoming feature film Cargo. This year I am attending Film Markets to package and arrange financing for that film. Next month I am attending the European Film Market at the Berlinale in Germany and later on this year I will be producing another short film" he said.
Kareem said fans can expect a lot from him as the year progresses.
By JEFFARAH GIBSON
The Tribune