Mid-Day Shooting at Harbour Bay Shopping Center
January 17, 2014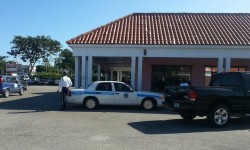 A daring daylight robbery at CIBC's Harbour Bay branch threw customers into frantic confusion when the robbers began firing shots.
A RUBIS gas station employee was robbed at gunpoint of a deposit bag at around 10:00am just outside the entrance of CIBC FirstCaribbean's Harbour Bay branch.
The robbers got out of a silver Honda Civic and immediately began firing shots. One CIBC customer said everyone dropped to the ground, afraid the bank was being stormed.
Officials at the bank refused to comment, but The Tribune reported that the man was about to make a deposit when he was approached by two men armed with handguns. They robbed the victim of an undetermined amount of money.
The suspects escaped in a waiting vehicle believed to be a Honda Accord.