U.S Embassy Honors Martin Luther King's Legacy through Community Service
January 21, 2014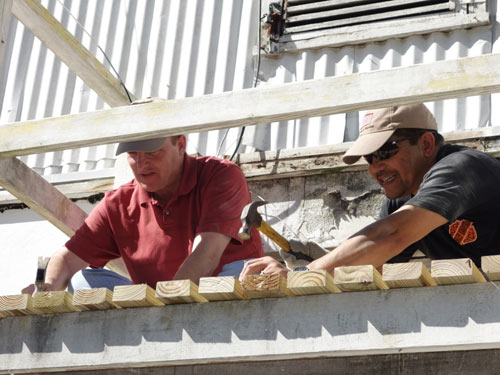 Monday, January 20, was recognized in the United States as a day of service to commemorate Martin Luther King Day and was observed as "A Day On, Not Off" where time was set aside by thousands of volunteers throughout the world to honor Dr. King's legacy of service through local community outreach programs.
Throughout his life, Dr. King advocated service to all humanity and encouraged people to embrace the principles of nonviolence and equality, without regard to race, creed of color.  On the U.S. national holiday, in MLK's observance, the United States Embassy partnered with members of Bahamas Methodist Habitat to serve at the Persis Rogers Home for the Aged.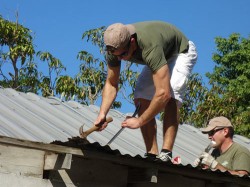 The Bahamas Methodist Habitat is a group of dedicated volunteers who help to provide home repairs and new home construction communities in need throughout The Bahamas and the Caribbean.
More than twenty Embassy volunteers representing several agencies including the Department of State, the U.S. Marine Corps, the U.S. Coast Guard, Office of Defense Cooperation and Bahamian staff teamed up with Bahamas Methodist Habitat for several hours to enhance the living conditions at the residential community that is home to more than twenty elderly Bahamian residents.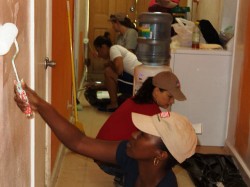 The refurbishment effort included painting the interior of the building, tree trimming, and repairs to the exterior structure of the home including the laundry facility that was recently damaged by fire.  Bahamas Waste also pitched in, providing assistance with the disposal of the debris that was collected following the clean-up.
During the visit, some of the Embassy volunteers also took time to fellowship with the residents and enjoyed the opportunity to learn little nuggets of wisdom from them, sprinkled with their vibrant sense of humor.
It is the hope of the U.S. Embassy that this latest community service project between the Embassy and local partners promotes a spirit of volunteerism and serve as an inspiration for other businesses and organizations throughout The Bahamas.  For additional information about how to become involved with the work of the Bahamas Methodist Habit, visit: http://www.methodisthabitat.org.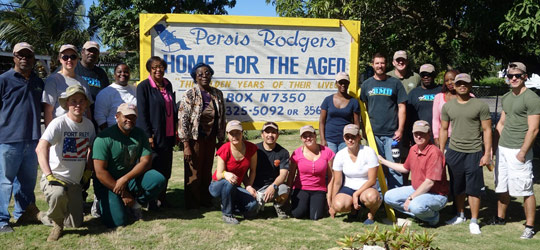 Captions:
Photos 1 and 9:  U.S. Embassy volunteers at work painting the interior of the Persis Rogers Home for the Aged.
Photos 2 and 8: U.S. Embassy volunteer removes some of the debris along the walkway at the Persis Rogers Home.
Photos 3 and 5: U.S. Embassy volunteers hard at work making repairs to the roof of the laundry facility at the Persis Rogers Home.
Photo 4: U.S. Embassy volunteer interacts with residents at the home.
Photo 6: On Martin Luther King Day volunteers from the U.S. Embassy and Bahamas Methodist Habitat participated in a refurbishment project at the Persis Rogers Home for the Aged. The photo includes Ms. Frances Ledee, Administrator at Persis Rogers Home, Abraham McIntryre, Executive Director, Bahamas Methodist Habitat, the U.S. Embassy's Public Affairs Officer Neda Brown with volunteers from BMH and the U.S. Embassy.