Students Wow Seasoned Environmentalist
February 24, 2014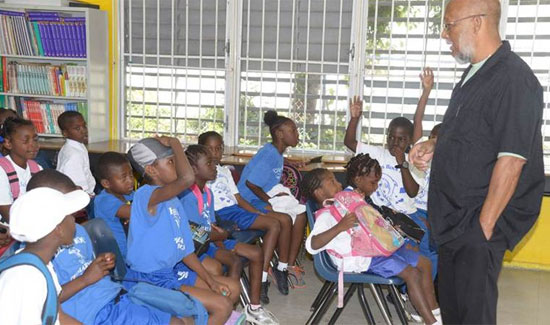 Even for former educator and retired principal Joseph Darville, the thought of spending the next three hours teaching 130 kids in primary school about the environment was daunting.
But when he walked into the auditorium at Holmes Rock Primary, Grand Bahama, and saw the excited look on children's faces and heard the enthusiasm in their voices when they answered his first question, worry melted away like ice in August. Suddenly the half day was too short to share all the information with eager students about what makes The Bahamas so special.
"The first thing I did was ask the children to go to the window and look outside. 'Look around. What do you see, taste, hear? What do you feel?' I asked them." Responses ranged from feeling salt on skin, hints of water in the air and an overall steadiness of the earth we are all fortunate to walk on, he said. Darville asked them to name what they were looking at. "The first little boy said 'air.' The second gave another answer and the third, I don't know where he got it from, he was so little, but he piped up and said, 'That's the environment.' I couldn't get over how much these students actually knew, which is why I think they were so enthusiastic about learning more and I have to credit Principal Leslie Newton and her staff."
Today, the Save The Bays education director saluted Holmes Rock Primary for encouraging students to become stewards of their immediate environment.
"Principal Newton and her staff are dedicated to creating a core connection between the students and their surroundings, hoping to teach them how to conserve and preserve our islands, a core philosophy of the national environmental movement Save the Bays," said Darville. The long time nature nurturer was invited to interact with students and staff on their aptly named Health Fair Day February 18, calling it "a tremendous joy and celebration to speak to these young and vibrant hearts, both young and old."
The school visit was part of a series sponsored by Save The Bays, touching hundreds of young people, sensitizing them to their surroundings.
For more information or to schedule a school visit, please go to www.savethebays.bs
Diane Phillips and Associates
Caption: Tapping into natural thoughts – Save the Bays Education Director Joe Darville inviting students to use their five senses to describe the environment in its purest form at an eco-presentation at Holmes Rock Primary.