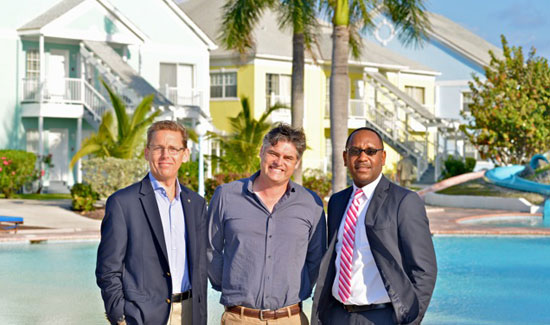 Sandyport Beaches Resort and Hotel recently hosted the local TV show, 'Bahamas at Sunrise' entirely from their Lagoon Beach as a part of the celebratory events for their RCI Gold Crown tourism award.  The show airs nationwide on ZNS Monday March 24th at 6:30 a.m. and 8:00 a.m. and again at 8:00 a.m. on Wednesday March 26th.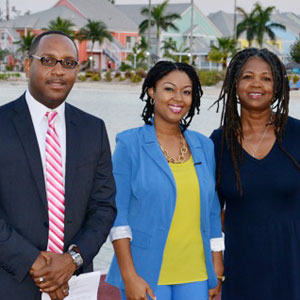 Viewers will see show hosts Jerome Sawyer and Rogan Smith in an entertaining hour of mixed holiday, lifestyle and business interviews with Vernon Moss the Sandyport resort general manager, Sarah Higgs of guest happiness and amenities and some of the business owners in the adjacent Sandyport Marina Village.
Interviews were intercut with pre-taped footage of the picturesque resort's beachside suites and the some of the business activities in the adjacent commercial Sandyport Marina Village. Chef Cleveland's weekly BBQ on Sandyport's beautiful Lagoon beach was also filmed for the popular morning show while being covered by award winning journalist Noelle Nicholls of 'The Domestic Tourist' Blog and web site.
The Sandyport business owners who also appeared on the show and whose services and products were featured were, James Galantis of Twisted Lime, Tim Revington of Heatwave at the Sports Center, Laura Young of Young's Champagne, Brian Moodie of RMS Insurance and Neale Jones, vice president of the Sandyport Development Company.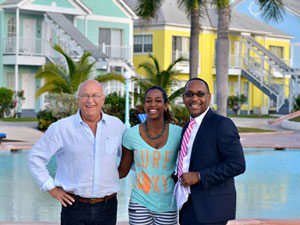 Director-General of Tourism, David Johnson was a guest in the final segment for the Young's Champagne toast to Sandyport Beaches Resort and Hotel and raised his glass in salute to the General Manager Vernon Moss and the staff.
Sandyport Beaches Resort and Hotel is located just west of the restaurants, casino and night-life of Cable Beach in Nassau's cosmopolitan Western District.  Just a few minutes' drive from both the old colonial charm of Nassau's Bay Street and the International Airport with its connections to many destinations in the U.S., Canada, the U.K. and Europe, Sandyport prides itself on fusing lifestyle with convenience and award winning hospitality.
Serena Williams
Photo captions
Brian Moodie – RMS Insurance with Neale Jones – VP Sandyport Development Company with Bahamas@Sunrise show host Jerome Sawyer on location at Sandyport Resort and Hotel.
Show Hosts Jerome Sawyer and Rogan Smith on location at Sandyport Beaches Resort and Hotel for Bahamas@Sunrise with Sarah Higgs of Guest Amenities
Tim Revington and Model Daria of Heatwave at The Sports Center with show host Jerome Sawyer on location at Sandyport Resort and Hotel.