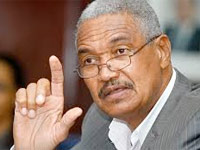 The Bahamas Crisis Centre has rejected the $1,000 donation Tall Pines MP Leslie Miller offered amidst the controversy surrounding his comments in the House of Assembly that he used to beat an ex-girlfriend.
"We see this as a teachable moment for our nation," said Crisis Centre Director Dr. Sandra Dean–Patterson in a statement yesterday.
"So often when a victim is battered, this explosion is followed by a honeymoon period, which is to shower the victim with gifts, money, jewelry, flowers and other niceties."
The Crisis Centre said the acceptance of Miller's check would be "contrary to the principles that guide our work on behalf of victims of domestic violence".
Last week, Miller sought to make amends after public outrage over his comment.
He pledged to be the spokesperson for the center and presented the organization with a $1,000 donation.
The Crisis Centre said while it is a non-profit organization that depends on public contributions, "it is not in a position to accept Mr. Miller's donation at this time".
While Miller has apologized for his statement, claiming it was made in jest, he has faced continued rebuke over the remark.
Dean-Patterson previously said only time will tell whether Miller's convictions are sincere."I am not so naive to believe just because you say something your attitude and your belief system have changed," she said on Friday.
Click here to read the complete article at www.thenassauguardian.com