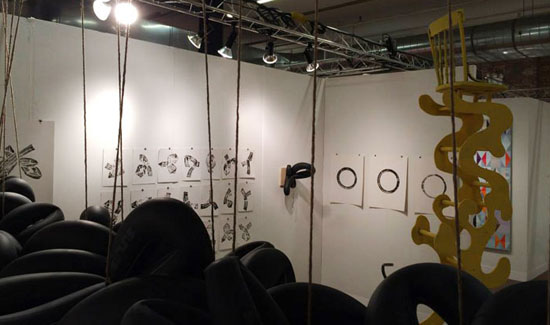 Bahamian artist John Cox, who was recently named creative artistic director for Baha Mar, will be an exhibitor at one of New York's most anticipated annual art fairs.
Starting March 6, Mr Cox will be displaying at the Volta NY fair, an invitational show of emerging solo artists' work.

It is the American incarnation of Volta Basel in Switzerland conceived in 2008 by European-born co-founder Amanda Coulson. It is designed as a place of discovery and exploration of contemporary art as presented by participating galleries.
Mr Cox's 2013 work, "Filler," is presented by Popopstudios of Nassau, a gallery space for local Bahamian artists created by Mr Cox and the first-ever gallery from the Caribbean to participate in an international art fair.
"These fairs are a new platform for contemporary Bahamian art to be experienced, where more complex narratives of Bahamian culture can be presented globally," Mr Cox said.
"Institutions like Baha Mar are elevating the ceiling under which artists work by broadening the opportunities for visibility."
At Baha Mar, Mr Cox will be in charge of driving the creative experience at the $3.5 billion luxury resort which officially opens in December 2014.
"It's very exciting," the artist said. "Baha Mar CEO Sarkis Izmirlian has made the experience of Bahamian art and Bahamian culture the defining element of the resort. The Bahamian art community is thriving. The artists bring freshness, a contemporary creativity and a geographical clarity apart from the rest of the Caribbean that is distinctive, and we'll use all of that visual language to give Baha Mar an authentic voice to reach a variety of audiences. It's an energizing mix of yin and yang: yin is tourism and hospitality, while yang is art, special, highly personal, sophisticated experiences."
Mr Cox's first mission is to curate the 1,000-acre resort, coordinating more than 2,500 engaging art moments across the expansive island campus in public spaces and guest rooms at all of the resort's hotels. These moments will tell the storied history of the Bahamas and of Baha Mar. At the heart of these stories will be the resort's art gallery and museum, which will showcase the largest collection of Bahamian art in the country and feature both permanent installations and rotating exhibits curated by Mr Cox. In addition, Bahamian artists in residence will create artworks at the resort's on-site artist studios.
"We will independently brand and name these studio spaces, with an eye for them to become a compelling direct art offering, a beacon that represents and showcases Bahamian artists in much the same way that Art Basel and other art fairs shine a spotlight now," Mr Cox said.
"We'll host talks, seminars and workshops to nurture our local creative community; some day even sponsor the first Bahamian regional art fair, an event about the region that takes place in the region. And of course we will continually explore opportunities to sponsor Bahamian artists at international fairs such as Art Basel, Volta Basel, Volta NY and others."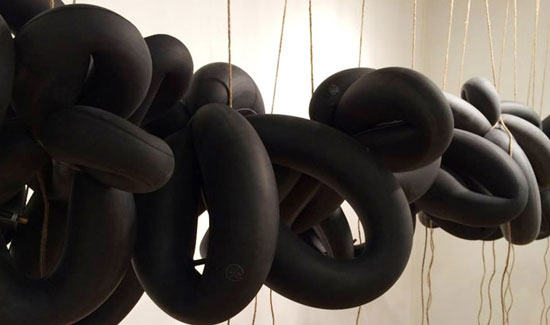 Known for his contemporary aesthetic in mixed media and paintings, Mr Cox brings a strong, modern voice to Bahamian art. In addition to working closely with Baha Mar's local art alliances – the D'Aguilar Art Foundation, the Dawn Davies Collection and the National Art Gallery of The Bahamas (NAGB), of which the Volta NY co-founder is director – Mr Cox's experience as an internationally exhibited artist and chief curator of the NAGB will be an integral part of building collaborative efforts with the creative community.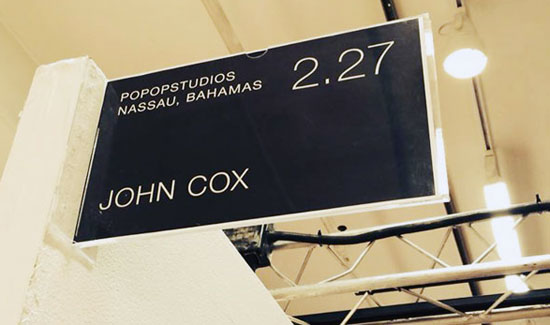 His Volta NY 2014 work consists of what Mr Cox refers to as "dark flowers". Constructed of bicycle inner-tubes, string and air, materials that represent both his passionate pursuit of biking and the extremes of slow deflating and forceful bursting, Me Cox suggests that life is a constant search for balance.
Mr Cox will also participate in 'Metanoia – Practices of Exhaustion' in the Volta Talks Lounge this Friday, where he will discuss his own practice as well as the state of art in the Bahamas and the Baha Mar art programme.
The informal talk will be led by ARC Magazine Editor-in-Chief Holly Bynoe (St Vincent and the Grenadines) and Junior Editor/Curator Blake Daniels (USA). Centered around Caribbean and diasporan-based artists whose practices intersect various disciplines, the group will also highlight critical concerns in the development of visual language through the examination of private and public realities of contemporary Caribbean society.
The Tribune
Photos courtesy of the artist