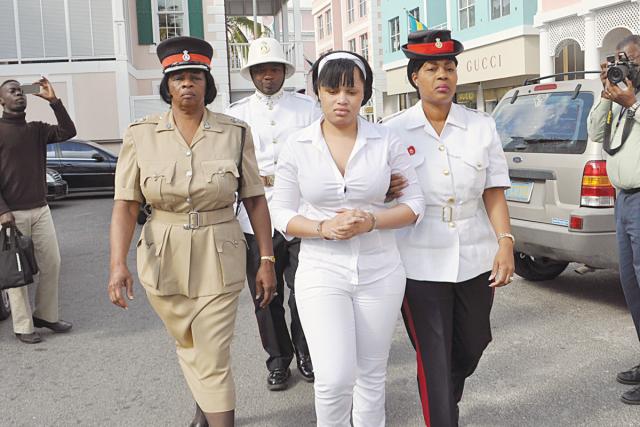 The media is calling it an "historic event".  24-year-old Chevaneese Sasha Gay Hall, a Jamaican woman, was on Wednesday convicted of forcing two other Jamaican women into the sex trade, marking the country's first conviction for human trafficking.
Hall was found guilty, by a Bahamian jury, on four counts of trafficking in persons and two counts of unlawfully withholding the victims' passports.
The nine-member jury returned the verdicts after deliberating for a little more than an hour.
This well-publicized prosecution is a direct response to criticism from the United Sates and the United Nations over the fact that no one has ever been convicted of human trafficking in The Bahamas, a nation where such activity is rampant.  No convictions, despite the fact that many prominent Bahamians, even politicians and law enforcement officers, make a ton of cash while engaging in the evil practice.
Hall, who faces a prison term ranging from three years to life imprisonment, returns to court on May 7 for sentencing.
Prosecutors said Hall recruited two women to work for her prostitution ring in January 2013.
The women, who were recruited separately, testified that they met Hall in Jamaica and she convinced them that she could get them jobs in The Bahamas.
One said she was promised a job as a bartender; the other said she was promised a job as a masseuse.
However, Hall seized their passports once they came to the country and told them they would have to prostitute themselves.
This happens to hundreds of women every year, and is often perpetrated by Bahamians of prominent social stature, including a very popular numbers kingpin, whose criminal activities are beyond reproach by the law.
"This conviction is nothing but a public relations stunt.  Real history will be made when a Bahamian is convicted for human trafficking."
The women said Hall dressed them up in provocative clothing and took pictures of them for prospective johns.
The women said they were closely managed and only left the apartment in Grand Bahama for jobs. However, the sex ring unravelled when one of the women escaped and alerted police.
For her part, Hall exercised her constitutional right to remain silent and called no witnesses in her defense.
Deputy Director of Public Prosecutions Vinette Graham-Allen and Eucal Bonaby prosecuted.
Click here to read the original article at www.thenassauguardian.com