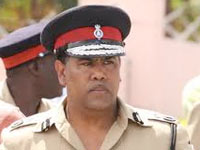 Free National Movement (FNM) Deputy Chairman Dr. Duane Sands said yesterday the fact that the United States Embassy in Nassau has once again made a crime public that was not reported by police "creates room for speculation" about the Royal Bahamas Police Force's policies.
Sands was contacted to respond to comments Assistant Commissioner Anthony Ferguson made to The Nassau Guardian on Sunday in defense of police policies on crime reports.
Ferguson responded to a previous Nassau Guardian article which pointed out that a new U.S. Embassy crime warning referenced an attempted armed robbery of an armored truck at Wendy's restaurant two weeks ago.
The matter was not included in police crime reports.
"What Bahamians ought to be asking ultimately is who is determining what ought to come to the attention of the Bahamian people," Sands said.
"If there is a discrepancy and the U.S. Embassy or one of its agents would report something that was not reported locally [by police] then we have to ask why or how did that happen."
Click here to read the complete article at www.thenassauguardian.com