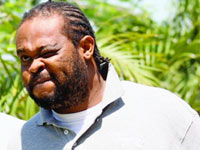 In another glaring case of court shenanigans, the abetment to murder trial of Stephen "Die" Stubbs and another man was postponed until April 2016.
Justice Indra Charles was supposed to impanel a jury in the trial of Stubbs and Giovanni Roberts, who are accused of abetting the 2011 shooting deaths of Gamacio Jones and Clayton Smith.
However, foolish legal shenanigans, disguised as pretrial arguments, led Charles to postpone the matter.
Jones and Smith were shot in their heads in a car in Ridgeland Park on September 15.
Stubbs was sentenced to life last year for the murder of a policeman in 1999. Roberts is on bail.
Murrio Ducille represents Stubbs and Wayne Munroe appears for Roberts.
Franklyn Williams, the deputy director of public prosecutions, appears for the Crown.
And you wonder why we have a huge backlog of court cases.