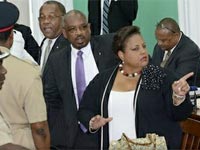 Over the past week or so, two events have been drawing public and media attention in our capital city of Nassau: A) The arrest and consequent charging of former Senator John Bostwick before the courts, and B) The aspirations of one Loretta Butler-Turner of becoming leader of the FNM.
Former Senator Bostwick, like any other citizen of this archipelago known as and called the Commonwealth of The Bahamas, is presumed to be innocent until he is proven guilty; but unlike the ordinary citizen, he has another court to face and that is the court of public opinion. If he is vindicated by the nation's court of law there will be those in John Q public who have made up their minds one way or the other and regardless of the court's decision, will stick to their opinions and their opinions can spell 'le fin' for his political career.
Being educated, charismatic, egotistical, popular, the son of two former politicians and ignorant of the cloak and dagger game of politics can, in more cases than one, be the recipe for political disaster. It is often said that politics is dirty. This is not so – certain politicians are.
Bostwick, like Branville McCartney, was becoming too popular in his own party, and as with McCartney, there are many willing to spin the rumor mill in order to take advantage of his legal predicament. There are a lot of old political has-beens in the FNM who still have fantasies of becoming leaders and who have been schooled from youth in the art of cloak-and-dagger politics. One only needs to go back a few decades and look at the scenario of the Night of the Long Knives to see where I am coming from. If former Senator Bostwick survives the courts, I can assure him that his goose has already been cooked in the kitchen of public opinion.
I have been dabbling in politics from the early 1940s, and I have seen some strong and decisive leaders, some mediocre leaders, some weak and indecisive leaders, but the present leader and deputy of the FNM do not have the slightest idea of what leadership really is. Dr. Hubert Minnis is like Alice in Wonderland, and his deputy is like Robinson Crusoe, lost and with no idea where she is, but with a head full of empty dreams of toppling her boss.
A recent editorial in The Nassau Guardian under the headline: "The FNM deputy should go further", said in not so many words that she, the deputy, has what it takes to be leader. I agree that Minnis as a leader has proven to be a non-entity, but Butler-Turner is not the answer.
This country has any number of educated, intelligent and brilliant young and aspiring leaders amongst us. We must now stop the recycling process of old political rejects and look to our youngsters of the 21st century to get us out of this financial quagmire that was created by arrogant and inept leaders of the 'all for me baby' crowd.
By: Errington W. I. Watkins