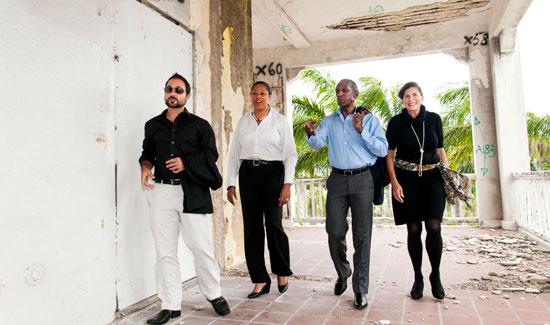 Calling it "a major undertaking, but one that will create a lasting legacy" a newly-energized and expanded Historic Bahamas Foundation Council vowed this week to help raise up to $13 million to restore historic Collins House.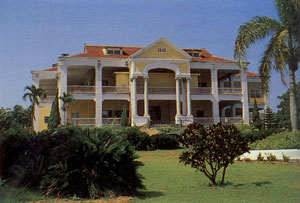 "The Historic Bahamas Foundation is committed to preserving the best of our historic sites and assisting the AMMC (Antiquities, Monuments & Museums Corporation) in re-creating these sites as vibrant, living history, places alive with activity," said Council Chairman Owen Bethel.
"Toward that end, we are very pleased to announce the expansion of the Historic Bahamas Foundation Council with the appointment of former Tribune News Editor Paco Nunez and public relations executive and environmental and historic preservation advocate Diane Phillips. We believe Mr. Nunez and Ms. Phillips will bring unique perspectives and new energy to this task which we know is a major undertaking in challenging times – the restoration of Collins House, designated to become the National Museum of The Bahamas. We are realistic. This will not be accomplished overnight, but the result of our effort will be a lasting legacy that will make all Bahamians proud and educate locals and visitors to our shores, sensitizing them to the complex, romantic and intriguing that contributed to creating The Bahamas of today."
The new members join a Foundation Council that includes businessman and entrepreneur Philip Simon, senior lawyer and former Magistrate Court judge Yvette McCartney-Meredith, Senior Vice President of Albany Dr. Tyrone McKenzie and Bethel, who said four additional invitations for council membership are being issued.
According to Phillips, the founding director of the Nassau Tourism Development Board, Collins House is "one of the last truly grand Bahamian estates.
"Collins House is the single greatest structure requiring immediate attention, a one-of-a-kind architectural wonder that captures all the elements that make Bahamian architecture so highly respected and recognized globally — generous overhangs, broad verandahs, high ceilings, dramatic halls and entryways, spacious interiors, marble columns from France at the front entrance, rich mahogany woodwork including oversized carved doors, natural cross ventilation, hand-hewn morticed shutters, and features almost a hundred years ahead of their time, including a central vacuum system fed from the depth of a below-ground level."
Built more than 200 years ago of wood, destroyed by the hurricane of 1929 and rebuilt of solid concrete to withstand fierce winds and threats from natural or other disasters, the 35,000 square foot Centreville House rises atop a hill overlooking Nassau harbor, Phillips explained, lending a stately status.
"Though it is officially known as Centreville House, the structure is commonly called Collins House after its last private owner, a flamboyant sponge and rum merchant who served two terms as an MP and rebuilt the structure as a monument to his wealth and position," Phillips noted.
Set among five acres of prime real estate in the heart of the city of Nassau, engineers have said the building is remarkably intact, inclusive of its original wooden roll downs, a stunning staircase, marble columns and great rooms that hosted their share of events. Sprawling grounds were once the site of fairs and civic events with children and adults frolicking on the lawns and picnicking under the great trees. Those grounds have since been replanted and have been the site of initial fund-raising affairs as well as stunning holiday lighting displays.
Diane Phillips and Associates
Captions:
Historic Walk – Members of the Historic Bahamas Foundation Council tour Collins House, designated to become the National Museum of The Bahamas. Pictured l – r, newly appointed Council member and former Tribune News Editor Paco Nunez, senior lawyer and former Magistrate Court Judge Yvette McCartney-Meredith, businessman and Islands of the World Fashion Week founder Council Chairman Owen Bethel, and writer, magazine editor and PR executive Diane Phillips. Other Council members include Albany Sr Vice President Dr. Tyrone McKenzie and entrepreneur Philip Simon. The Council works closely with the AMMC, its Chairman Courtney Strachan and Executive Director Dr. Keith Tinker. (Photo by Derek Smith, Jr., DPA)
Centreville House, commonly called Collins House after its one-time owner, the flamboyant spirits merchant who rebuilt the home after a hurricane destroyed the original wooden structure in 1929.