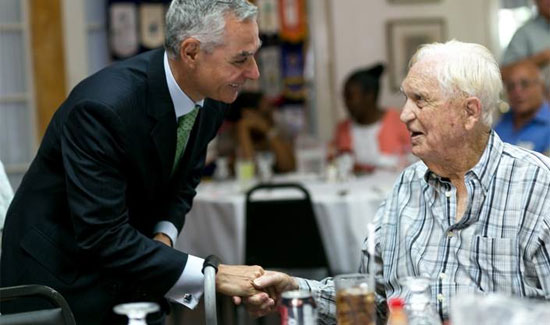 Sir Durward 'Sea Wolf' Knowles, seated, who with his late Star sailing crew Cecil Cooke won the Bahamas first Olympic gold medal, meets a man who has flown at speeds hundreds of times faster, but never outgrew his admiration for Knowles, the hero he calls 'the first admiral of Bahamian unity.'
---
Editor's Note: Sir Durward Knowles was photographed by portrait photographer Duke of Nassau for The Bahamian Project in 2012.  The Bahamian Project is a 3-year photography initiative to create legacy portraits of our nation's people. Read more…
---
The meeting took place at the Rotary Club of East Nassau luncheon at the Nassau Yacht Club August 1 when Llewellyn Boyer-Cartwright, standing, was the featured speaker. Boyer-Cartwright, a partner at Callenders & Co. who specializes in Aviation Law, and a former commercial pilot, said the time has come to stop thinking of aircraft as merely the delivery system for bringing visitors to the shores of The Bahamas and begin to recognize the potential that aircraft and their attendant services can mean to a full-blown aviation industry in The Bahamas.
That industry, he said, is poised to take off with a high quality international aircraft registry and can expand to include a wide range of financial services products and entrepreneurial opportunities ranging from maintenance and repair operations to supplying and training.
Boyer-Cartwright, who praised the government for taking steps to regain control over Bahamian airspace, also called for The Bahamas to get out in front with regulations for unmanned aerial vehicles, saying remote-controlled drones were the way of the future but must be regulated.
Diane Phillips and Associates
(Photo by Kovah Duncombe for DPA)