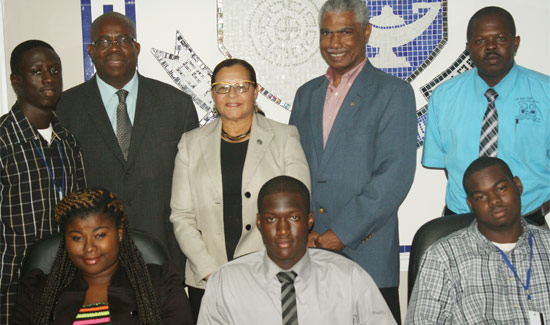 Cat Island's future is looking brighter as four young natives were recently awarded technical scholarships, thanks to the Cat Island Sailing Association.
Awarded were Clifton Bullard, Arley Merzius and Raphael Munroe, students already enrolled at The Bahamas Technical and Vocational Institute (BTVI) along with Donnamae Dean, who will join them in spring 2015.  It was a huge moment for the association's president, Patrick Strachan, who was able to tick off one of his goals for his 2013-2015 tenure.
Mr. Strachan said the scholarships were awarded to students who represent the future of Cat Island. "As president of the sailing club, I've always felt that the club ought to be known as something more than a group of people organizing a regatta.  I'm of the opinion that we ought to do things for the Cat Island community that will leave a lasting impression and help it to grow.  I believe that when you educate an individual, that will always remain with that person, unlike material things which will wither," he stated.
Meanwhile, principal of Old Bight High School, Jerome Forbes, who flew into Nassau just for the presentation, was elated over the scholarships presented to his former students, Clifton and Arley, both of whom have six Bahamas General Certificates of Secondary Education (BGCSE's).
"These two men could have chosen any other institution, but they chose BTVI.  They did their own research, telling me they want to become Electricians.  We thank the Cat Island Sailing Association for allowing them to fulfill their dreams," said Mr. Forbes.
He expressed confidence that the two "promising young men" would attain the same level of success at BTVI which they attained in high school.
Also expressing confidence in the scholarship recipients was Manager and Consultant of BTVI, Dr. Iva Dahl, who took the opportunity to encourage them during their pursuits at the institution.  She added that Cat Island holds a special place in the heart of BTVI as it was the first Family Island on which the institution held a General Maintenance course.
Grateful for the opportunity, Clifton thanked the association on behalf of the recipients.  "We will represent Cat Island well.  We will live up to our end of the bargain.  Thank you. We will prove we deserve this," said the former Heady Boy.
Additionally, District Superintendent for Cat Island, Rum Cay and San Salvador, Garth H. King said he was impressed with the association's gesture to help the youngsters.  He noted that it is an investment into the futures of four promising Cat Islanders, who based on their high school records, are "well-rounded and gifted."
While Clifton and Arley study Electronics Engineering Installers and Repairs, Raphael will complete studies in Auto Mechanics and Donnamae will focus on Cosmetology.
Caption – Four Cat Islanders are on their way to higher education after being awarded scholarships by the Cat Island Sailing Association.  Standing from left to right are: Raphael Munroe, recipient; District Superintendent, Cat Island Rum Cay and San Salvador, Garth H. King; BTVI's Manager and Consultant, Dr. Iva Dahl; President, Cat Island Sailing Association, Patrick Strachan and Principal, Old Bight High School, Jerome Forbes.  Seated are recipients: Donnamae Dean, Arley Merzius and Clifton Bullard.