Oil Drilling Not a Job Creator
June 20, 2014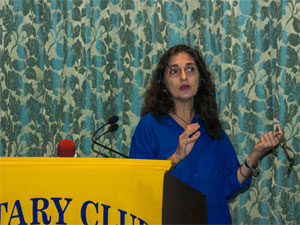 Oil drilling in The Bahamas will likely generate work for no more than a handful of locals while putting thousands of tourism and commercial fishing jobs at risk, reEarth president Sam Duncombe warned.
Addressing a College of The Bahamas (COB) Inaugural Environmental Law and Policy Conference, Duncombe said most oil industry jobs tend to be temporary and mostly reserved for foreigners – making the domestic benefits minimal, while the potential threat to established and profitable industries remains very high.
"The majority of jobs created by the offshore oil and gas industry during the construction phase are short-term, and most of these jobs go to people from outside the region, whereas the thousands of jobs dependent on the commercial fishing industry and tourism are long term and based on a sustainable resource," she said.
"Pollutants from the offshore oil industry have significant adverse effects on fish stocks' ability to produce healthy eggs and larvae, and, therefore, on the sustainability of the fishing industry. The Bahamas' multi-million dollar tourism industry is dependent on healthy and unspoiled coastal waters. Toxic pollutants emitted by the offshore oil industry can destroy wetlands, wildlife, and contaminate the water."
Duncombe added that any oil that may be discovered in Bahamian waters will be destined for the US market, and therefore will not result in lower gas or electricity prices for Bahamians either. According to the veteran environmental advocate, drilling for oil and gas creates pollution in a variety of forms, all of which affect marine biological diversity.
"A single exploratory well dumps approximately 25,000 pounds of toxic metals into the ocean. Routine offshore drilling operations dump thousands of pounds of drilling mud into the ocean, which contain such toxic heavy metals as lead, chromium, and mercury, as well as potent carcinogens like toluene, benzene, and xylene," she said.
"A single offshore rig emits daily the same amount of air pollution as 7,000 cars driving 50 miles.
Pile drivers are used to drive steel columns into the seabed. Their threat to marine animals is relentless.  The noise and vibrations caused by the punishing blows of these industrial giants has been shown to drown out communication between marine mammals."
In recent years, there have been several applications for permits to drill for oil in Bahamian waters. Before coming to office, the governing Progressive Liberal Party (PLP) promised to hold a national referendum on oil exploration before allowing any of the projects to go forward. However, following their successful 2012 election bid, the PLP went back on this promise, announcing that exploratory wells would be allowed in an effort to discover if are any oil reserves in Bahamian territory before a public vote is held.
Minister of the Environment, Kenred Dorsett, has announced that the government is currently considering five draft Bills and regulations that would govern petroleum exploration and extraction.
Duncombe called on the minister to share the proposed laws with the public and consider feedback before bringing them to parliament for debate.
Diane Phillips and Associates