PLP Hypocrisy: When The Chairman Owes Too:
June 20, 2014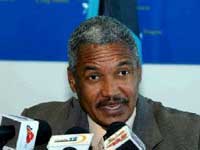 The Bahamas Electricity Corporation (BEC) is a debt-ridden government corporation that can't take care of itself anymore. Things are so bad that the government has to stand behind its debt in order for it to get new money.
Spending at the corporation has also been excessive. Since the Progressive Liberal Party (PLP) came to office, BEC Executive Chairman Leslie Miller has revealed the abuse of the corporation's overtime system. In some instances, line staff were taking home $100,000 per year.
Miller has railed against the excesses of the BEC workers. He has made himself out to be the "man of the people" who is ensuring the people's money is spent properly.
But yesterday we found out, in an exclusive story in this newspaper, that the executive chairman of BEC has a secret.
BEC records obtained by The Nassau Guardian show that Miller and one of his family-owned businesses collectively owed the corporation nearly a quarter of a million dollars. A Harrold Road building registered with BEC in Miller's name owed the corporation $46,373.77. Those records also show that a Harrold Road bowling alley, owned by Summerwinds Investments Ltd. owed the corporation $193,159.56. Both businesses owed BEC a total of $239,533.33 as of Monday.
The Harrold Road business registered to BEC in the name Leslie O. Miller is also $45,289.09 delinquent, according to BEC records. The records show that no payment has been made on the bill since October 2013. Those records further show that the bowling alley is $172,474.63 delinquent.
When initially asked by The Guardian in the foyer of the House of Assembly to respond to the findings on Monday, Miller said he would not discuss his personal business or the business of any other customer with the media, no matter "what the amount is or how insignificant".
However, Miller later contacted The Guardian and acknowledged that both businesses owe BEC money, though he did not confirm how much.
Miller said his daughters, who manage Mario's Bowling and Family Entertainment Palace, and their accountant informed him that they have an "ongoing situation where they give them (BEC) a check every week".
"They give [BEC] a minimum of $5,000 every week and they say they are getting ready now to give them a substantive check on the balance that is owed," Miller said.
Asked why the arrears on Mario's was so high, Miller said everyone's accounts get high when the economy goes bad. He said nearly every business in the country was hit hard as a result of the recession.
The government should ask Miller to resign as BEC executive chairman. His credibility as a spokesman for BEC has been destroyed as a result of this revelation.
Deputy Prime Minister Philip Davis, who is the minister responsible for BEC, did not go far enough yesterday in the House.
Davis said he was "disappointed" to learn that Miller still owes the corporation, and added that he directed the chairman to bring his accounts up to date. Apparently, Miller spoke to Davis previously about his challenges.
"And he indicated to me that he had made arrangements to resolve those challenges," said Davis.
"I'm disappointed that it hasn't happened. I spoke to him today (Tuesday) and he assured me that he has made arrangements in place to settle his debt.
"I am satisfied with that. As I said, I was disappointed to see it because I thought it had been resolved. He explained to me the reason why it had not been done. I accepted that explanation. However, that does not excuse him from not paying his bill. I told him to go and pay and he's telling me now that he's made the proper arrangements to do so."
Miller has no moral authority left to criticize individuals or businesses for not paying their bills. He also has no moral authority left to criticize the unions and workers at BEC for spending too much.
Miller is a man who is passionate about the plight of ordinary Bahamians. He seems to be sincere with this concern. He can contribute in many ways to his community, especially considering that he is an elected member of our Parliament. What he should no longer be is a chairman of one of our state corporations.
The PLP has left Ishmael Lightbourne in place. Lightbourne is the government's value-added tax coordinator. It was revealed that he was not paying his real property taxes while criticizing the Bahamian people for not paying theirs.
Despite Lightbourne being exposed by this newspaper, his boss, Prime Minister Perry Christie, has not demanded his resignation. He has also not fired him. We suppose the PLP will leave Miller in place too.
Not doing the right thing harms the governing party, however. The people see the hypocrisy of these situations. The people see that the PLP will cover for its own even when there is no defense of the wrong.
The people remember all of this at election time. By the end of 2007, after five years of PLP scandals and gaffes, the people could almost recite the slew of missteps by the then governing party. PLPs should also remember that those people voted them out of office.