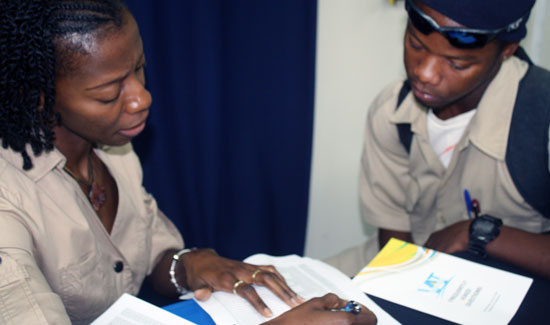 Career opportunities heated up recently during a Public Service summer job fair held for students of The Bahamas Technical and Vocational Institute (BTVI).
Students were given insight into the requirements, vetting process and benefits of joining the military branches including the Customs department, police and defence forces.  Also present were representatives of the Department of Public Service and the only private sector participant, The Bahamas Telecommunications Company (BTC).
Coordinator of BTVI's Student Affairs, Raquel Bethel noted that with graduation around the corner and BTVI's students joining the throng of other school and college leavers, it was imperative to expose them to additional areas in which they can utilize their skills.
During his presentation, Police Corporal, Leonardo Burrows noted that policing is multi-dimensional, but it calls for discipline and hard work.  He underscored that the force is not for a person who simply wants a job.
"There is a difference between a job and a career.  We are looking for persons interested in making a lifelong commitment as opposed to people who show up, collect money, go home and bad-mouth the organization," said the officer of 15 years.
Furthermore, representing BTC was Human Resources Manager, Elvado Turnquest, who urged the students to ensure their reputations are intact as the first impression is before the interview.
"Even the email address on your resume` should be professional. Also, some of the pictures and videos on the Internet are risqué. I have some people who have interviewed well, but their public image was tarnished.  I will search up on you," he cautioned.
Mr. Turnquest noted that the work standard at BTC is high.  "If I hire you, you have to produce.  We don't run behind you to complete your job.  I encourage you once you get the job, work on keeping your job.  What you're learning now at BTVI, let this be a foundation to propel you elsewhere," he stated.
Meanwhile, students were excited about the fair and availed themselves of the opportunity to meet with representatives of the organizations.  Office Administration major, Hellisha Demeritte said her interest in the public sector has been further piqued following the information received.
"I now have additional options.  I've always been interested in the public service and this was good exposure to the various careers," said the student.
Echoing her sentiments was Adam Burnside who stated that the career fair was worth his while.  As he prepares to graduate from BTVI with a certificate in Office Assistant, Adam said he has a clearer idea of what some of the requirements are for entry into the public service.
The Bahamas Technical and Vocational Institute (BTVI)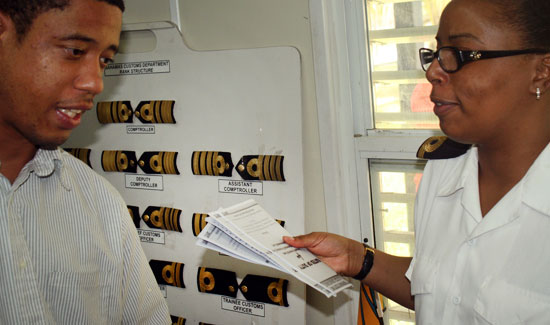 Captions from top to bottom:
CAREER TALKS – BTC's Human Resources Manager, Elvado Turnquest sharing information with students about his company's standards.  Looking on is Vanessa Arthur, Information Officer, the Royal Bahamas Police Force and Corporal Leonardo Burrows.
DISCUSSION – A BTVI student questions Trainee Customs Officer, Tishura Rigby about the profession.
JOB OPPORTUNITIES – First Assistant Secretary of Special Projects in the Department of Public Service, Bridgette Hepburn, sharing information with a BTVI student who is interested in the public sector.