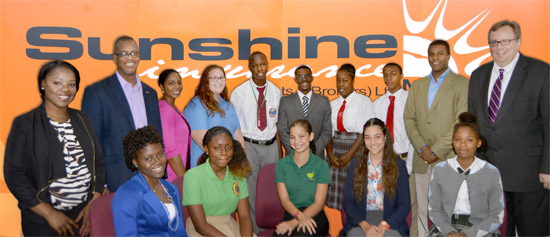 A 12th grade Kingsway Academy student's business plan to diversify the economy by creating a bush tea pharmacy has won her a $60,000 scholarship to attend Elmira College.
Brittney Wells, 17, walked away with the top prize during the 13th Annual Sunshine Insurance – Elmira College Essay & Speech Competition.
Runners-up Kiara Grant of Doris Johnson Senior High School, Meshach Roberts of Queen's College and Regina Smith of Queen's College each won $30,000 scholarships to attend Elmira College.
"I was so surprised because the way the judges were questioning me was so critical. I think they were just trying to see if I could work under pressure and apparently I can," said Wells, who plans to major in psychology and minor in business and linguistics when she heads off to college.
Wells devised a plan to have an all Bahamian bush medicine pharmacy. In her plan, all of the products sold throughout the pharmacy – the food, snacks, drinks and household products – were all Bahamian-made.
"It's different from herbal pharmacies because it's just native Bahamian medicine in the form of lotions, ointments, tea bags, etc. I know that they would want something what would help the Bahamian economy, so I thought that was good," she said.
"I actually have a medical condition – a sinus tumor and natural medicine actually helps it. I haven't found the exact remedy for it, so I feel as though this kind of medicine would help it more than chemicals that would harm my body in the long run, so that inspired me to do it."
Vice President of Government Relations & Chief of Staff at Elmira College, Michael Rogers said Wells stood out because "she demonstrated great poise under pressure."
"Obviously, she gave some thought to the way she presented herself right down to the branding of her original idea using the Bahamian flag colours in her logo as well as green – colours evocative of nature. I think it was a smart, clever way to present. She showed some thoughtfulness and some entrepreneurial thinking," he said.
"That's what we're really looking for – someone who can kind of scan the environment they are in and think 'what can we do differently', 'what can we improve on; what is out there that my product or service can fill in the economy and improve it.' We were looking for someone who would make a great student, who can read, write, speak intelligently and not crumble when we ask very hard questions. She's obviously a talented young woman and we expect great things from her."
He continued, "Students can get a little help writing essays; students can get help with the presentations, but when they have to stand there and deliver by themselves and we ask those kinds of questions to see a higher level of thinking. That's, a lot of times, when the winners are crowned. I think that you have to have the full package to be the winner or one of the runners-up. The questions are always about how this would be implemented, how much it would cost to start. We like to hear people who say, 'well, I don't know the answer to that, but here's what I would do to start answering that question."
Many 10th, 11th and 12th graders were given the opportunity to submit essays during the competition. However, only 10 students were selected to deliver speeches before a panel of judges in order to win scholarships that were awarded on Saturday, November 22nd, 2014
The 10 finalists were: Danario Deveaux, Destinee Coleby, Regina Smith, Kaitlyn Fox, Lorette Cineus, Brittney Wells, Kiara Grant, Meshach Roberts, Jasper King and Troy Keily Jr.
Arawak Homes President, Franon Wilson, who serves on the Board of Trustees of Elmira College, is also an alumni.
"If any of you choose to attend Elmira, please know that you have a lot of good students who have gone there. I know that if you go, you'll only add to that rich legacy," he said.
The students were judged out of 100 points: communication skills and demonstration of knowledge accounted for 40 points each and originality and feasibility of idea accounted for 20 points.
Elmira College is a private, liberal arts college located in Upstate New York.
It has been ranked as one of the top regional colleges by the 2014 edition of Best colleges.
Sunshine Insurance is grateful for the opportunity to work with Elmira College to continually assist young Bahamian students achieve their goals of successful tertiary education.
Caption: The 10 finalists of the 13th Annual Sunshine Insurance-Elmira College Essay & Speech Competition pose for photos following the competition. (Photo/Jamal Johnson for Sunshine Insurance)