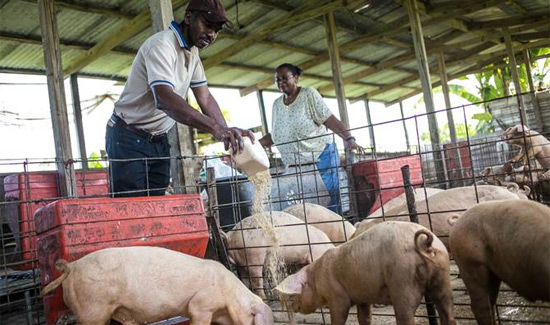 A pig farm that had lain fallow, roofs of its pens scattered across an overgrown field, is now bursting with life, thanks to one hotel's belief in buying locally grown and produced food.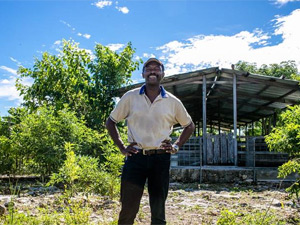 Breathing new life into the piggery located in southwest New Providence is the third time in as many months that the Melia Nassau Beach has boosted Bahamian business through its commitment to local sourcing, something the hotel's Manager Andrew Tilley says works for the resort and its guests, simplifying purchasing, supporting the local economy and giving guests a taste of the country they're visiting.
If it's a win for Melia and its guests, it's an even bigger win for the farm and its owners – Lester Beneby along with Cadrington and Karen Coleby.
The hotel's interest inspired them to rejuvenate the defunct but promising property leased by Beneby. Coleby re-roofed pens damaged in a hurricane, dug a second well, put in new irrigation to provide cooling showers for the pigs, brought in new stock. From one piglet freshly weaned, the farm has grown to 50 in just three months. While husband Cadrington, an engineer, dug his heels in with construction and infrastructure, Karen Coleby, who has a degree in livestock management from Tuskegee University and spent 16 years working at a former poultry firm, was able to bring her business and operations skills to the new family venture they own with Beneby.
The now-thriving venture started with a single meeting in March hosted by the Inter-American Institute for the Cooperation on Agriculture. By April, less than a month later, the farm was on its way to revival, thanks to its new customer. It's a win-win. Melia saves all suitable scraps and peels from the kitchen, the farm collects the food daily, adds it to regular feed and when pigs are ready for slaughter, Melia is there ready to purchase.
"It's more labour intensive but it cuts our food costs in half," said Mr. Coleby.
That's serious savings. The pigs devour 100 lbs. of food every day, 3000 lbs. a month.
In addition to providing supplementary food, just knowing the hotel was willing to buy made all the difference, said the Colebys.
"The first rule of farming is the product should be sold before you put the first seed in the ground," said Mrs. Coleby.
"The piggery is the third spoke in the ever-expanding wheel of Melia's farm-to-table or sea-to-table commitment," said Melia's Manager, Tilley. Since the high-end Spanish-based hotel chain took over operation of the Cable Beach hotel in December, it has brought major investment, new training and a novel approach to local sourcing.
"We started with fresh produce and vegetables from Chiccharney Farms in Andros. We expanded to buying fish, conch and crawfish from a father and son team in Mayaguana and Nassau and now we are pleased to include the piggery," said Tilley.
"The chefs are having a lot of fun with it and we are getting good reports from guests who are enjoying local fruits like sugar apple, sapodilla, soursop and papaya. We may take these for granted but for someone from the Northwest or Europe or Canada, those fruits are exotic and make their experience in The Bahamas even more memorable."
But what gives him and the Melia team greatest satisfaction, he said, is knowing they are impacting local lives.
"There's a genuine sense of pride when staff hear that our farm-to-table and sea-to-table program has enabled two businesses in The Bahamas to expand in just a few months and now a third to be re-invented, all creating new jobs and entrepreneurial opportunities. it is definitely a win-win for all of us."
By Diane Phillips
Photos by Kovah Duncombe
Captions: Farm piggybacks on hotel business — A New Providence farm that lay fallow for years is re-born and thriving thanks to a commitment from Melia Nassau Beach Hotel. The resort on Cable Beach provides table scraps and peels and purchases pork product from pig famers Karen and Cadrington Coleby. It's part of the hotel's commitment to a farm-to-table and sea-to-table local sourcing program.
Sun shines on revitalized pig farm – Melia Nassau Beach resort's commitment to supporting local farmers inspired Cadrington Coleby and his wife Karen, who holds a degree in livestock management, to rebuild a farm they co-own with a partner in New Providence.