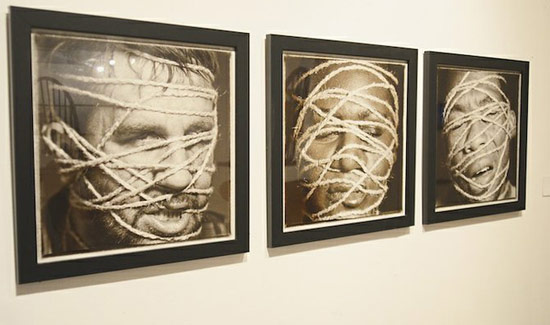 In an effort to put their best foot forward in an artistic sense, a group of Bahamian artists displayed creative works in a new exhibition which opened at Popopstudios last Friday.
Heino Schmid, curator of the exhibit, said the works in the show are pieces by Popopstudios community studio artists.
The name of the exhibit, "Best Foot Forward", symbolises the positive attitudes of the 11 artists who participated. The show is expected to remain open for the next five weeks.
"The way Popopstudios is set up, it's almost like a converted guest house. The gallery itself is part of the larger complex which houses eight artists, so what used to be rooms for people to stay in have turned into artists studios. Every 12 to 18 months or so we try to do a group exhibition with the work of the artists that are presently in the studio, and that's what this is," said Heino.
Along with the recent exhibition, Heino said they also have available an open studio which they try and coordinate with persons who are renting the spaces. He believes this sets Popopstudios apart from other local galleries, the fact that people are working on the premises.
"Every year we try to coordinate with everybody to make sure that all the studios are open and the public also has the chance to view what the work is that comes out of the space," he said.
Heino said when they were all trying to figure out what the goal of the exhibition should be, he came up with "Best Foot Forward", not only as a name, but as a mantra.
"The conversations for this exhibition happen very close after New Year's Day, so it was that optimism for a progressive future. That was meant to be the attitude of the work," he said,
Speaking about some of the artwork on display, Heino said photographers Duke and Lisa Wells have been experimenting with Bahamian portraiture.
"What they did was a project where persons if they wanted to, they could've gotten their portraits taken, but they had to basically write something on a sign that they wanted to stand out in the photo. And that what's John Cox did in the photo he had taken by the couple. His photo said, "Believe in Yourself, Share This," he said.
Heino said John Cox's displayed excellent sculpture pieces. The sculptures were a continuation of a project that he has been working on for a few years.
"Those pieces specifically deal with the idea of comfort. So he reappropriated chair tops and placed these tops in positions which make it impossible for a person to comfortably sit in them. I think there is a lot of communication and interest in personal comfort and trying to find space," said Heino.
As for his own work that he has put on display for the exhibit, Heino said he decided to exhibit proposals that he is currently working on for the next National Art Exhibition at the National Art Gallery.
"I just used the opportunity of this exhibition to problem solve those ideas with it. It deals with my own preoccupation with the horizon line. There is one piece that is very simple and elegant – a 2×2 piece of work that has been cut up about 30 times and then resembled to make a very tense looking line," said Heino.
Alesha Cadet
The Tribune
Published: Wednesday, September 3rd, 2014