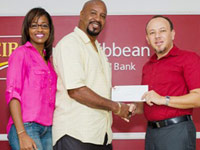 CIBC FirstCaribbean continues to demonstrate its commitment to youth and sports in the country through their most recent contributions to local sporting organizations. In a short presentation CIBC FirstCaribbean awarded the Kevin Johnson Basketball Camp, Peace on the Streets Basketball Tournament, Elite Soccer and the Junior Baseball League of Nassau with monetary gifts to aid their work with young athletes.
These organisations were selected for their dedication to the development of youth through sports. The Kevin Johnson Basketball Camp which has been in existence since 1999 not only works to enhance the athletic skill of our nation's youth, but also to provide them with the discipline, structure and guidance needed to help them become productive and focused citizens.   The well-known Peace on the Streets annual basketball tournament has been advocating against violence for 19 years. Newcomer Elite Soccer was launched February of this year with a mission to promote beach soccer in a positive environment and to encourage the physical and social development of its members, and JBLN which is in its 25th season, continues to provide children with the opportunity to learn the lessons of sportsmanship and teamwork as well as baseball/softball fundamentals.
The gifts are courtesy of the company's International Comtrust Foundation, a Caribbean-wide initiative which ensures that 1% of the Bank's profits reach important causes, which may be nominated by local employees. Focus on youth is a major component of CIBC First Caribbean's four-pronged social impact policy which also promotes health & wellness, staff volunteerism, and environmental causes.
CIBC FirstCaribbean Bank
Captions: Top – Manager of Customer Relationships Management and Strategy, Nakera Symonette and District Manager Dwight Burrows of CIBC FirstCaribbean present a gift to Carlos Reid (center) of Peace on the Streets Basketball Tournament.
Mia Campbell (3rd from left) and members of the Elite Soccer Team accept their gift from CIBC FirstCaribbean District Manager, Inger Johnson
Camp Founder Kevin Johnson pictured with Director of Retail Banking Channels – Gezel Farrington
District Manager Dwight Burrows with Charles Kemp JBLN Secretary/Treasurer