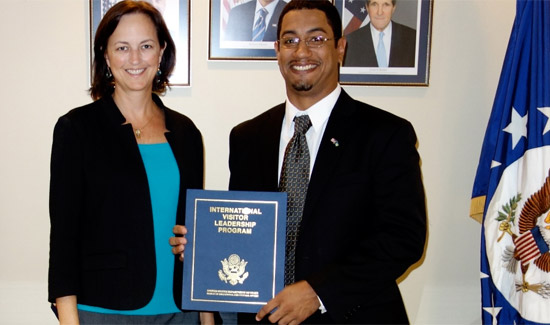 On October 28, Mr. Jaime Lewis, founder and president of Islandz Tours, paid a courtesy call on U.S. Chargé d'Affaires Lisa Johnson following his recent participation in the U.S. Department of State sponsored International Visitor Leadership Program,  "Changemakers: The Impact of Social Entrepreneurs in the U.S." from August 10 – 29,  2014.
The professional exchange program focused on government initiatives that support civic engagement and innovation.  Through his tourism company, Mr. Lewis works directly with local entrepreneurs to promote tourism, The Bahamas' leading industry.  During the meeting with Chargé Johnson, Mr. Lewis discussed how he will apply his experiences from the professional exchange in the United States to make a positive impact in The Bahamas.
Mr. Lewis was joined by counterparts representing Australia, Bangladesh, Belize, Bulgaria, El Salvador, Hungary, India, Jordan, Malaysia, Mexico, Nigeria, the Philippines, Sri Lanka, Thailand, Tunisia, Turkey and Uruguay.  During the program, the participants visited several U.S. cities including Washington D.C., Burlington, San Francisco, Salt Lake City and Cleveland where they examined the rise of social entrepreneurship in the United States and how innovation can drive social and environmental change.
Through analysis of successful models of social entrepreneurship, the participants explored the impact of new and social media on traditional methods of fundraising, grassroots mobilization and strategic collaboration.  The group also discussed how social entrepreneurs identify social problems and apply market-based solutions to organize, create and manage ventures that engage the community to solve social problems.
As a follow-up to the program, Mr. Lewis will facilitate a 90-minute presentation on "The Impact of Social Entrepreneurship" at the American Corner located in the Harry C. Moore Library at the College of The Bahamas on Thursday, October 30th at 2:00 p.m.  Admission to the event is free and open to the general public.
United States Embassy, Nassau
Caption: U.S. Chargé d'Affaires Lisa Johnson with IVLP participant Jaime Lewis.