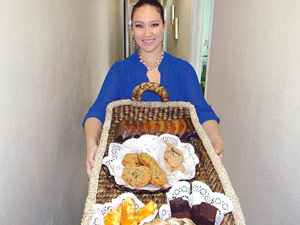 Tessa "Monet" Lightbourne, known as the High-heeled Lady of Radio and host of the popular radio show "Rendezvous" on Star 106.5 FM, can now boast that she's an award-winning baker after capturing the inaugural dessert competition in the second annual Bahamas Smokin' Hot BBQ competition. And she did it with a dessert that she hadn't expected to win — her oatmeal raisin cookie.
"I was happy…shocked," said Lightbourne, whose dessert won under the Mudda Sic Grillers team. Her pina colada bread, which she had pinned high hopes on under the Hot Star Grillers team, placed fifth; that concoction featured strawberry jam and rum compote and was topped with whipped cream and toasted coconut .
"Literally, when I heard the pina colada placed fifth, I was like, 'Mudda sick. That whipped cream probably [melted]'. I messaged everybody saying my dessert came fifth, [with an] unhappy face, so I look around, Greg [Lampkin] is there. He's like 'Uhhh, that's alright'. Then we heard 'Mudda Sic Grillers'. I [turned] around, [looked] at Greg and [said] 'The cookie!'
"When I went up and they asked me what I baked, I was hesitant to say a cookie, because it just sounds so trivial — a cookie."
Lightbourne believes her pina colada bread did not do as well because she did not provide enough for all the judges to taste.
She admits that her cookie dough is a little different from most oatmeal raisin cookies. She says she does two things differently, one of which is the addition of a spice that she refused to reveal. She held tight to her second secret.
While the winner of the BBQ competition walked away with a $2,500 purse and the opportunity to compete at the Jack Daniel's World Championship Invitational Barbecue in October, Lightbourne got bragging rights.
"I was just happy to say I have an award-winning oatmeal cookie," she said.
Lightbourne entered the barbeque competition at the very last minute.
"Originally I didn't even know about a dessert competition until the night before, so I decided to do two things – the oatmeal cookies to give out and the pina colada bread as the actual dessert for the competition. The oatmeal cookies were just supposed to be something sweet for all of the three Nassau Guardian tents to give out, so I put the cookies there for people to sample," she said. "I entered the oatmeal cookies never thinking that a cookie would beat out trifles and cakes and everything else I saw in the dessert competition," she said.
A lot of people aren't aware that the radio deejay who heats up the airwaves between 9:30 a.m. and 12:30 p.m., Monday through Friday, loves to bake and cook, and has been doing so since she could stand up. She originally baked for family and friends before baking on a larger scale to help raise money for her sister's medical bills and give a little extra every year. She then started selling her treats at the office and had to come up with a name for herself. Bourne Sweets – a play on her last name – was born. She also sells her treats at a few other businesses around the island.
Consistently she makes cookies — her award-winning oatmeal raisin, chocolate chip, gingersnap, malted and cranberry chocolate; her loaves — carrot pineapple, banana bread, pina colada bread and pumpkin spice bread; her brownies and her scones — blackberry orange-scented iced; bacon, cheddar and chive; and cheddar and chive. Occasionally she offers a specialty item. After Easter, she utilized leftover hot cross buns to make bread pudding. Most people know that to make a proper bread pudding, the bread should be at least a day old.
And she always insists that anything she makes is contingent on the season, as she never uses canned ingredients. If she can't get fresh pumpkins to roast, she doesn't bake the pumpkin loaf that week.
Shavaughn Moss,
The Nassau Guardian