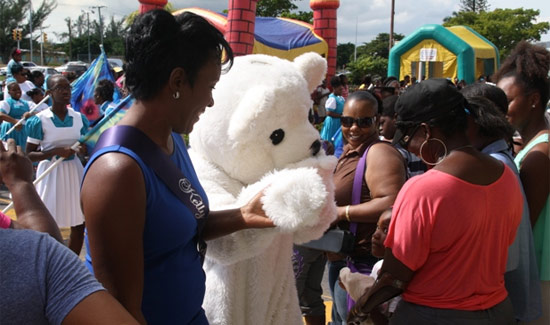 The magic of Christmas nestled in the air as Kelly's House & Home opened their Toyland and Fantasy Forest on Saturday, November 8th, 2014. Cheer and laughter came from the hundreds of Children and Adults that gathered around the Parking lot awaiting the arrival of Santa and Snowbear.
Kelly's gave out free balloons, candy and popcorn. Kids also received free face paintings and the chance to jump around in the bouncy castle.
As if the excitement wasn't enough the crowd was melodically moved by the musical performance of The Aquinas Marching band, directed by Ms. Shona Knowles, as Santa appeared like magic out of his Chimney, tossing goodies to the crowd.
Santa and Snowbear made their way through the parking lot, escorted by our Kelly's  Bride of the Year 2013, Mrs. Tabitha Butler Smith. Parents and kids gathered to have their photos taken with Santa and Snowbear and to  view Kelly's fully animated Fantasy Forest. The first Fantasy Forest Visitors were Sumaiya and Keyno Gibson, along with their Father.
Kelly's Bride of the Year 2013 Mrs. Tabitha Butler Smith, gave out candies to the children visiting the Fantasy Forest.
Ms. Denise Darville, Toy Department Area Manager at Kelly's noted that early shoppers took advantage of great bargains in the Kelly's Toy Sale. Mrs. Darville also noted that top choices were "Nerf-N Strike", "Baby Alive" Dolls, "Grow with me" Trike Bikes for boys and girls, Ez Bake Ultimate Oven, Sweet dreams Dora Doll and "Razor Scooters".
Santa and Snowbear will be available for photos every Saturday until November 29th, between the hours of 12:00 – 5:00pm. Donations are welcomed in the drop box as all proceeds will go to "The Nazareth Center- Children's Home". Kelly's will match all donations up to a total of $500.00.
Make sure you check out the Fantasy Forest which is open every day during store hours.