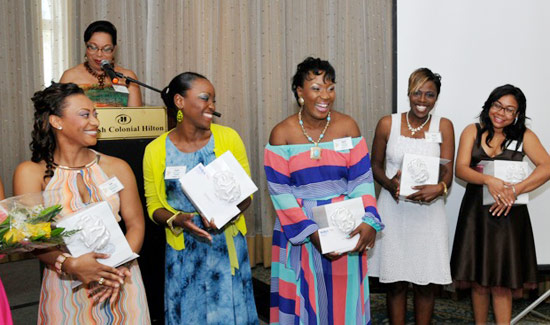 Kelly's 22nd Bride of the Year is Mrs. Tabitha Butler-Smith, Kelly's Bride of the Month for April 2013, a patient relations officer at Doctor's Hospital.  She is excited to reign over bridal events at Kelly's House and Home, Mall at Marathon, in 2014, during the company's 87th Anniversary Year.
On receiving the crown and thousands of dollars in prizes, she said, " OMG! When I looked around, I saw 10 more girls who would win! And then they called MY name!  I couldn't believe it!"She and husband Dennis Smith, Captain of a private yacht, will celebrate their first anniversary on April 20.
Once again the competition was so close that the judges named a runner – up, Mrs. Dyontalee  Maude Turnquest-Rolle, Kelly's Bride of the Month for August, 2013. She is a trained teacher with The Bahamas Department of Education, while husband Anwar Rolle s a police constable with the Royal Bahamas Police Force.
Medical affiliations seem to run in the glamourous promotion. Retiring Bride of the Year Michaella Forbes-Conliffe is a registered nurse with the Public Hospital Authority. On relinquishing Kelly's  bridal crown, she said,
" To the newly crowned Bride of the Year 2013, congratulations. The title that you hold is a very prestigious one. Always be mindful that you are a role model. How you dress, speak, and compose yourself is very important. You should be willing to participate in all events when called, as you are a  representative of Kelly's. It is important to possess qualities that include: leadership, persistence, confidence, grace, poise, intelligence, and a positive attitude."
The new Bride of the Year met her yacht captain husband at the Exuma Regatta. She advises new brides," The first year is not an easy one,  but it is the time to learn more about each other and to accept each other for who we are."
She chose Kelly's for her bridal selections because of their "reasonable pricing, wide selection of quality merchandise,  and because of the extraordinary customer service  from their team of  bridal consultants."
Her choices were "Exotica Orange" china by Villeroy & Boch and "Adorn Signature" crystal by Lenox.
PRIZES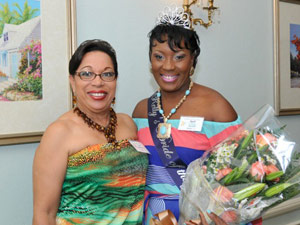 The new Bride of the Year  receives the Kelly's  House and Home  $1,000 gift certificate and a wealth of other prizes including:
"Hayden" 6pc Place Setting of Fine China  (Noritake); "Steak Lover's Grill" (Hamilton Beach); "Stanton" 7pc Serving  Tray (Circle Glass); "Lady Anne" 5 pc Party Set  and  Footed Cake Plate (Gorham/Lenox); Luggage Set/3 Purple (Nicole Miller) ; Kitchenaid Gourmet 11pc Pot Set  (Meyer Corp.); Rachael Ray 5pc Bakeware set, 1qt / 1.5qt Oval Bakers, 6 pc Kitchen Tool Set/Orange, 2pc Tongs/Orange (Meyer Corp.);  "Canopy" Candlestick Pair  (Lenox); a beige rug 24×40  (Springs); and a Weekend stay for 2  and dinner for 2, Friday/Saturday night Buffet at  the British Colonial Hilton, site of the Bridal Awards luncheon.
Runner Up Mrs. Dyontalee  Maude Turnquest-Rolle, reminds brides, "In the planning phase, be as organized as possible, keep track of everything–all ideas and purchases.  Be mindful of your husband. Although he may appear to be uninterested, he wants to be included. I wouldn't bother to go anywhere else but Kelly's.The customer service is  unmatched and the products are unmatched, too."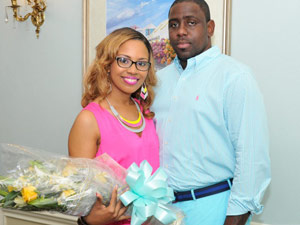 She receives a $250 Kelly's Gift Certificate and other prizes including: Rachael Ray 5pc Bakeware set, 1qt & 1.5qt Oval Bakers, 2pc "Lazy Spoons"/Orange  (Meyer Corp.); "Lady Anne" 5 pc Party Set  and 12" Bowl (Gorham/Lenox); "Metropolitan" 3pc Candle Holder set (Godinger Silver); Rolling Carry-On Bag / Purple (Nicole Miller); 2pc Bathroom Rug set /  and a 24×40 Beige rug (Springs) and Sunday Brunch for 2 at AQUA, at  the British Colonial Hilton.
BRIDES OF THE MONTH 2013
An independent panel of judges choses Kelly's Bride of the Year  from Kelly's 12 Brides of the Month for 2013: January-Michelle Reckley-Hall, a banker; February-Krystle Alexis Christie-Davis, Atlantis personal assistant; March-Lyn Terez Davis-Nixon, Cultural Affairs Officer, Ministry of Youths, Sports and Culture; April-Tabitha Butler-Smith, Patient Relations, Doctor's Hospital; May-Lacretia Raquel Rolle-Johnson, Executive Assistant, Baha Mar; June-LaToya Renia Curry-Lees, Registered Nurse, PMH;  July-Andronekia Clarke-Roberts, Office Manager and  Architectural Technician; August-Dyontalee  Maude Turnquest-Rolle,Teacher; September-Aquelle Francesca Plakaris, VP and Law Student; October-Ruth Davina Johnson, banking administrative assistant; November-Returea Drusilla Bain-Ferguson, gift shop manager; December- Collette Pickstock-Moree, MOE Teacher.
Each 2013 Kelly's Bride of the Month received a $250 Kelly's House & Home Gift Certificate and other gifts including: a Kitchenaid Gourmet Porcelain 2pc Skillet  (Meyer Corp.); Lady Anne Signature Goblets set/4  (Gorham/Lenox); Electric Kettle/Red  (Hamilton Beach); and a Rachael Ray Oval or Square Open Casserole Dish (Meyer Corp.)
Judges for the event include Mrs. Cypriana Fleischer, Mr. Vincent Vaughn; Mr. Nelson Georges (who has served every year).
Kelly's Bridal Department Head, Ms Beverley Maycock, urges prospective brides to "Enter the Bride of the Year and Month competition. It is as easy as registering your bridal choices and wedding date, including china and crystal, at Kelly's House and Home, Mall at Marathon, preferably three months in advance of the wedding. We even have furniture  and patio furnishings! Your bridegroom can select tools and grills, also, from our wide selection of the very best products."
Kelly's Brides are invited to special events during the year of their wedding. Kelly's Brides of the Month and Bride of the Year are guests of honour at these events.
Mrs. Judith Adderley, Human Resources Manager at Kelly's, was the MC for the Bride of the Year Event.   She brought down the house when she quipped, "We look forward to seeing all of you in our Baby Department real soon!"
Mrs. Nancy  B. Kelly, President of Kelly's House and Home and founder of the Bride of the Year Promotion, was unable to attend this year but sent a message, "Our Bride of the Year is always a young woman of very special qualities, attractive and community minded. These young role models, our Brides of the Month, represent women who have shown special qualities of giving back to their communities. We feel they will go on to make positive contributions through their churches and other civic organizations.  You are all winners!"
All "With love from Kelly's."
By P.S. News/Features