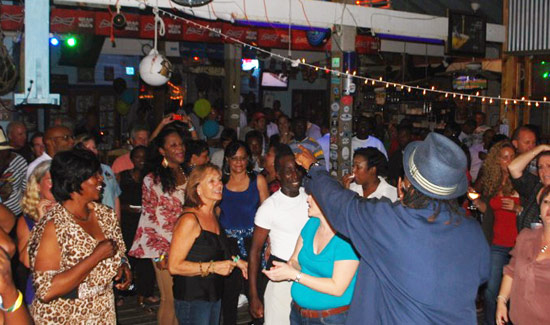 Kirkland 'KB' Bodie, The Bahamas' best-selling musician, is drawing crowds belting out a chorus with a cause at a series of concerts around the country.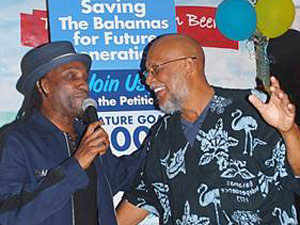 Sponsored by Save The Bahamas, the concerts kicked off in late December in Nassau and hit Abaco last weekend where the second event in Marsh Harbour drew more than 250 people.
Long a proponent of protecting the environment, KB has recorded videos with a beach backdrop and written several environmentally-themed pieces, including Save The Bays with the popular refrain, "Rise up, Bahamas, Let your voices blaze, Stand up Bahamas, Come on let's save the bays, God gave us this land,and this land we must save, Stand up, Bahamas, come on let's save the bays."
According to Save The Bays CEO Lindsey McCoy, who helped organize the Abaco concerts April 11 and 12, the concerts helped deliver a 'powerful, positive message about how important the environment is to every Bahamian.'
"KB and all the entertainers put their heart into it and we had almost 100 people in Hope Town and around 250 people in MH signing petitions, signing up for memberships and buying t shirts," said McCoy. "There was a great energy. People were excited about the entertainment and supportive of the environment theme."
KB is on tap for additional performances as the environmental group launched one year ago this month has exploded into a national movement with nearly 14,000 Facebook fans and more than 5,500 signatures on a petition urging passage of an environmental protection act, a freedom of information act and an end to unregulated development.
Its legal team has filed several court actions and education director Joseph Darville has taken the facts about a threatened environment and steps to protect it from classrooms to beach sessions to a weekly radio show Mondays at 5 pm on Love 97.5.   (www.savethebays.bs)
Diane Phillips and Associates
Caption: CHORUS FOR A CAUSE – More than 250 people turned out for a Save The Bays concert in Marsh Harbour this weekend with musical giant Kirkland 'KB' Bodie, left, and Save The Bays Education Director Joseph Darville. The organization that celebrates its first anniversary this month has attracted nearly 14,000 friends and fans on Facebook.