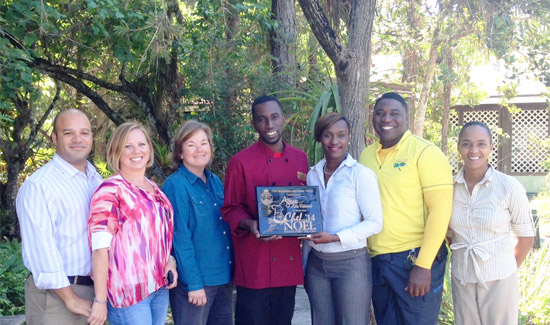 Freeport, Bahamas – While Festival Noel might be over, the memories of the night remain, especially for everyone who tasted the food and drinks prepared by Agave Latin Fusion restaurant, who won Chef Noel at this year's Festival Noel.
This is not Agave's first time winning the prestigious Chef Noel title! Agave won the award in 2008 when they had just opened.
"It was a great win for Agave and a great year," said Noel Clarke, co-owner of Agave in Port Lucaya. "This is our third year participating and each year gets more fun.  My team really loves the event, and our Chef Dencil Bain did a superb job.  We also want to thank the young students who worked with us as they worked incredibly hard."
Student chefs from Bishop Michael Eldon School, Mary Star Christian Academy, Jack Hayward High School, Eight Mile Rock High School and St, George's High School joined the restaurants to help prepare and serve the food to Festival Noel guests, and they were a huge asset to all of the restaurants.
"Compliments to all the restaurants for their participation in Festival Noel this year, and kudos to Agave for coming out as Top Chef winners," said Lakeshia Anderson, Grand Bahama Parks Manager. "The Chef Noel competition is instrumental in the event's success and the savoury dishes by all participants kept our patrons boasting all evening. I would also like to extend our appreciation to Bahamas Wholesale Agencies (BWA) for sponsoring the Chef Noel Competition, and to Mr. Gailey Williams for organising the student chefs to assist the restaurants, to afford them with exposure in the Culinary Arts."
The other restaurants that participated in the Chef Noel competition include Dive-In, Red Beard's and New Life, a first time Festival Noel participant.  Visit the BNT on Facebook to see more photos from Festival Noel and to learn more about becoming a BNT member.
Submitted by Barefoot Marketing
About BNT
The Bahamas National Trust was created by an Act of Parliament in 1959 to build and manage the national park system of the Bahamas. Possibly the only non-governmental organization in the world charged with such a responsibility the TRUST, as it is commonly known works daily to conserve and protect the natural resources of The Bahamas, through stewardship and education for present and future generations. There are currently 27 National Parks managed by the TRUST with more than 1 million acres of marine and terrestrial areas protected.