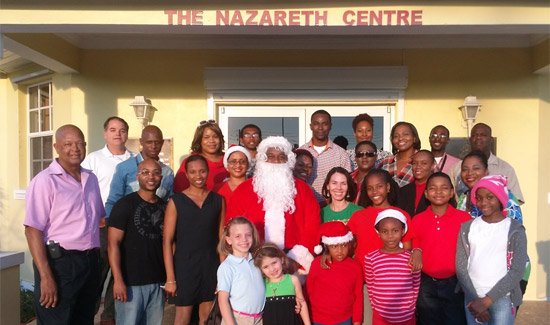 On Thursday, December 18, American and Bahamian staff from the U.S. Embassy gathered at the Nazareth Center to participate in a festive holiday event bringing yuletide cheer to 42 of the home's children.  U.S. Chargé d'Affaires Lisa Johnson and Embassy staff participated in the program that treated the children to snacks and a special appearance by Santa Claus and Mrs. Claus.
Santa and Mrs. Claus distributed gifts donated by the Embassy community as well as toys donated by the American Women's Club as part of the U.S. Marine's annual Toys for Tots program.  "The Embassy is excited to be visiting the Nazareth Center again this year" said Chargé Johnson.  "The staff really looks forward to sharing the spirit of Christmas with all of you."
In line with the U.S. Embassy's efforts to engage local communities through outreach, the event marks the eight consecutive year that the U.S. Embassy has reached out to children at Nazareth Center during the Christmas season.
U.S. Embassy, Nassau
Photo Captions: 
Top:  U.S. Embassy staff at the Nazareth Centre.
Bottom: U.S. Embassy staff participates in a festive holiday event at the Nazareth Center.