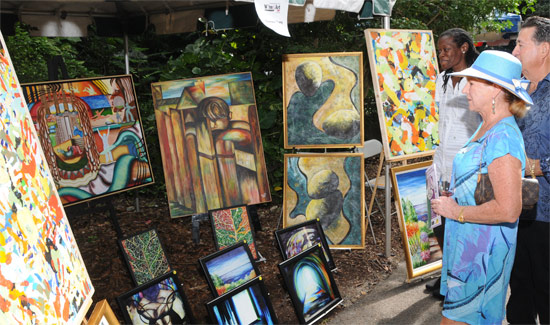 Although, the original event was postponed, the Bahamas National Trust (BNT) is thrilled to welcome patrons to the 24th Annual Wine and Art Festival on Saturday, January 31st. The annual festival features over forty talented artists, a selection of over sixty wines from Bristol Wines and Spirits and a wine and food pairing demonstration sponsored by Fresh Market and the Ministry of Tourism's Culinary Tourism Division.  The event will also feature special appearances by Emanji Circus Arts with music throughout the day provided by Ambasah and the COB Band.
BNT members will get a special preview of the art and a chance to win beautiful pieces of art in the Wine and Art Raffle on Friday evening, January 30th, which is the Members evening for the festival. The Members evening is sponsored by Scotiabank and Leah Davis Senior Manager for Marketing and Public Relations at Scotiabank commented, "We are proud to partner with the BNT in their efforts to preserve and protect our environment as they make a positive impact in the communities where we live and work."
Rusty Scates, Wine Manager for Bristol Wines and Spirits stated, "Bristol Wines & Spirits is pleased to be a major sponsor of the Bahamas National Trust 24th Annual Wine & Art Festival.  This Festival provides us with a way of helping to promote our local artists, support the work of the Bahamas National Trust and is an opportunity for the public to sample over sixty wines from Bristol's extensive wine portfolio. We encourage wine enthusiasts and art lovers to join us for a fun filled afternoon!"
A popular feature at the Wine and Art Festival will be a food and wine pairing demonstration organised by the Bahamas Ministry of Tourism's Culinary Tourism Division and sponsored by Fresh Market.  Featuring four of the finest chefs in The Bahamas who are all members of the Bahamas Culinary Association, the area will help you learn what wine should be served with what dish. The Wine and Food pairing will feature Chef Jamal Small, Chef Carvsion Pratt, Chef Carolyn Bowe and Chef Gio who will all be featuring dishes using our favorite species from the sea – Conch.
The Trust is excited to partner with the Culinary Tourism Division and Fresh Markets who is a new sponsor for the event.  According to Renea Knowles, Vice President and Marketing for AML Foods, "From our inception, Solomon's Fresh Market has been a supporter of the Bahamas National Trust and its efforts to preserve our environment.  We are happy to be able to sponsor the event as our mission is to support healthy living, contribute to the communities that we live in and preserve our Bahamas for future generations."
The festival also features a number of well-known caterers and restaurants who will be providing food throughout the day, such as Events by Alexandra, Anne Marie Joseph, Food Art Bahamas and Da Bahamian Vegan.                             ,
"We are once again thrilled to have many outstanding artists participating in the Festival," noted Lynn Gape, Deputy Executive Director of the BNT. New artists participating this year are Allan Wallace, Lisa Codella, Holly Parotti, Sue Bennett Williams, Caroline Anderson, Kirkwood Deal, Katerina Kovatcheva, Celestine Albury, Yutavia George, June Collie and The Current (Art @BahaMar).  Native Son Woodworking will also have unique pieces made of native hardwoods for sale. Patrons will also have a chance to visit with some of their favorite artists Jonathon Bethel, John Paul, Trevor Tucker, Marco Mullings, Quentin Minnis, Toby Lunn , Moya Strachan, Dion Lewis, Jeff Cooper, Taino and Davinia Bullard and many other talented artists.
The BNT's Wine and Art Festival is a great event to learn about wine view wonderful art, while being entertained in lovely and historic garden.  So be sure to attend this very special event on Saturday, January 31st, 12 noon to 6 p.m. at The Retreat on Village Road. Admission is $20. You can visit the event page to learn more and RSVP https://www.facebook.com/events/808954899171552/. All proceeds support the National Park system of The Bahamas.
Barefoot Marketing
The Bahamas National Trust was created by an Act of Parliament in 1959 to build and manage the national park system of the Bahamas. Possibly the only non-governmental organization in the world charged with such a responsibility the TRUST, as it is commonly known works daily to conserve and protect the natural resources of The Bahamas, through stewardship and education for present and future generations. There are currently 27 National Parks managed by the TRUST with more than 1 million acres of marine and terrestrial areas protected.
Website: http://www.bnt.bs/ Facebook: https://www.facebook.com/pages/Bahamas-National-Trust/25034035861